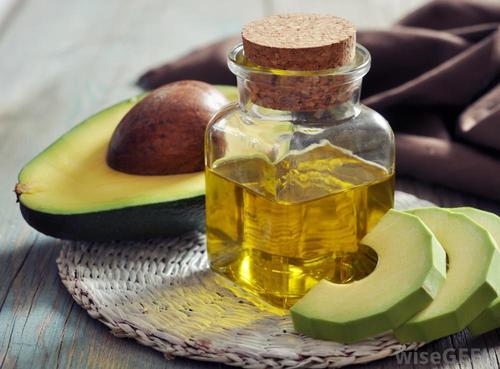 Product Description
Provided Avocado Oil is a comestible oil, which is obtained from the Persea americana (avocado) by pressing its fruit. Applicable as a food oil or cooking oil, this ingredient can be used in various dishes so as to boost it aroma an taste. The offered oil is also utilized for cosmetics and lubrication, where it is appreciated for its expected moisturizing as well as regenerative properties. It is one of the healthiest lipids that can assist in preventing diabetes, high triglyceride levels, obesity and high cholesterol.

Features of Pure Avocado Oil :-
Proffered with accurate constitution and long-term effectiveness.
High in heart-healthy antioxidants as well as monounsaturated fats.
Made from 100% fresh & pure cold pressed avocados.
Non-toxic composition that makes it totally edible.
Offered with right consistency as well as extended shelf life.
Uses, Properties & Precautions :-
Avocado Oil can be directly applied on the hair and skin without any second thought. Highly advisable to those with skin problems, such as sensitive skin and skin irritations which needs the application of a vitamin rich oil.
Works as a highly therapeutic oil that is rich in lecithin, pantothenic acid, vitamin B1, B2 A, vitamins D & E, and essential fatty acids. The physical effects in minimum color level and a nearly odorless vegetable oil.
Shows higher stability over time equivalence to others oils on account of its low Iodine Index.
After being easily applied, it provides deep penetration as well as significant moisture retention collectively with increased nourishing properties.
Used to restore the dry, mature and dehydrated skin.
This rich and heavy oil can be well-blended with other oils.
Specially utilized for the healing of eczema & psoriasis, having high content of vitamins A and E.
Appropriate for all types of cosmetic goods from rinse-off to leave-on.
The high content in unsaponifiable portion makes it an outstanding component for soap and cleansers.
Specification of Avocado Oil :-
Fields
Value
Product
Avocado Oil
Source
Avocado
Appearance
Clear bright yellow pale oily liquid
Colour
Bright pale yellow
Odour
Odourles
Physico-Chemical Properties
Relative density
0,910 – 0,920
Refractive Index
1,460 – 1,470