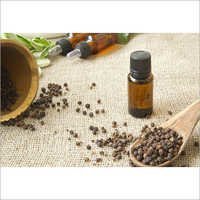 Black Pepper Oil
Price And Quantity
Product Specifications
All Age Group

Reduce Pigmentation, Provide Pain Relief
Product Description

The supplied and exported black pepper oil is steam refined from the peppercorn, which comes form the botanical family named as piperceae. Though, it itself is often utilized, the Black Pepper Essential Oil is not all that broadly known. Be that as it may, it's an oil that has great amount of monoterpenes, a chemical component acknowledge to powerfully affect the body from various perspectives. The smell of dark pepper oil is musky, peppery, spicy and warm.

Remedially, our product is for the most part utilized like a supplement for nervous and digestive system wellness and support. Thus, many individuals will utilize the oil as an seasoning in their food preparation, similarly as you may with smashed dark pepper. Nevertheless, the proportions will be very extraordinary. You wouldn't utilize a full teaspoon of our Black Pepper Essential Oil, yet rather begin off with a single drop or more to locate the correct amounts for your cooking.
Essential Benefits Of Our Black Pepper Oil :-


High Source Of Anti-Oxidants
Upgrades Sustenance Taste
Alleviates Pains And Aches
Helps Digestion
Brings Down Cholesterol
Has Antiviral Qualities
Empowers Circulation
Shows Anticancer Action
Facilitates Feelings Of Cigarette Cravings And Anxiety
Detoxifies The Body
Works As A Digestive System Stimulant
Can Be Utilized As Food Preservative

Details of Black Pepper Essential Oil :-

Herbaceous Name Piper Nigrum

Usual Technique Of Extraction Steam Distilled

Plant Section Normally Used Peppercorns

Color Clear

Viscosity Thin

Power Of Initial Aroma Medium

Fragrance Description Crisp, Peppercorn And Fresh Aroma

Major Components
Pinene, Phellandrene, B-Bisabolene, Linalol, A-Terpineol, A-Terpenene, Limonene, Myrcene, Beta-Caryophyllene, Sabinene, Pinocarveol, Camphene

Black Pepper Oil Features :-

It is a solid and sharp hot smelling oil as well as is weakly remindful of clove oil, but more distilled. Moreover, it can extend in shading from light golden to yellow-green as well as possesses a watery consistency.

Cautions That Should Be Taken:
Our black pepper oil may induce aggravation to hypersensitive skins and utilizing a lot of could over-promote the kidneys. It ought to be averted in pregnancy because of its feasible skin sensitizing impact.

Our Product Combines Well With:
Albeit fragrance oils mix and blend well fragrance insightful with each other. Black Pepper oil goes exceptionally well with other fragrance oils, for example, clary sage, coriander, frankincense, ginger, lavender, lemon, mandarin, sandalwood, ylang-ylang, bergamot, clove, fennel, geranium, grapefruit, juniper, lime and sage.


Trade Information
Telegraphic Transfer (T/T), Cash in Advance (CID)

2-3 Per Day
Sample costs shipping and taxes has to be paid by the buyer

HDP