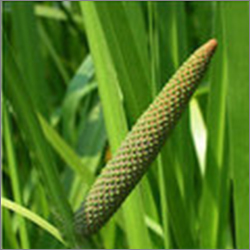 Product Description
Calamus Pure Essential Oil
Botanical Name: Acorus Calamus

The medical advantages of Calamus Oil can be ascribed to its qualities as a tranquilizing substance, stimulant, nervine, memory boosting, circulatory, cephalic, antibiotic, antibiotic, anti-spasmodic and anti-rheumatic. The utilization of calamus was even acknowledged to old Indians and Romans as well as it has had a huge place in the Indian arrangement of pharmaceuticals, called Ayurveda. Further, Calamus 's plant develops best in watery, muddy spots. It is local to Asia and Europe. Naturally, Calamus is called as Acorus Calamus. Our Calamus Oil is gotten from new or dried roots through steam refining. The main segments of oil are shyobunone, iso shyobunine, camphone, calamusenone, calamendiol, beta asarone, beta gurjunene, alpha aselinene, alpha calacorene and acorenone. Albeit poisonous, the Calamus Oil has numerous restorative properties.
The oil is primarily separated from Acorus calamus var angustatus, a restorative herb that has a place with the classification of Araceae. This herb is broadly developed close to the watery zone, small ponds and lakes. It is an earthy shaded fluid with the sweet trademark smell. Calamus Oil is perfect for application over skin amid back rub to get a spotless and clear composition.


Key Features :-


Gives help from anxious fits.
Helps in treating sleep deprivation and cerebral pains.
Avoids inward and outside contaminations.
Invigorates digestion and blood flow.
Averts hysteric attacks and epileptic fits.
Calms pain related with gout, arthritis or rheumatism.
Shipping Options:
We have shipping our goods by Air as well as Sea and also shipping i.e. DHL, FedEx, UPS, TNT, & EMS.
| | |
| --- | --- |
| Product | Calamus Oil KC 54 |
| Lot no. | KC-54 |
| Manu. Date | Jan. 2010 |
| Best Before | Jan. 2012 |
| Appearance | Viscous liquid |
| Color | Yellow to Yellowish Brown colour |
| Odor | The odor is Warm Woody Spicy & Pleasant odour with increasingly Sweet |
| Botanical Source | Acorus Calamus, Sweet Flag |
| CAS No. | 8015-79-0 |
Physico-Chemical Properties:-
| | |
| --- | --- |
| Specific Gravity At 25oC | 0.940 - 0.980 |
| Optical Rotation | -0.3 To +5 |
| Refractive Index At 25oC | 1.5500 - 1.5525 |
| Acid Value | Not more than 4 |