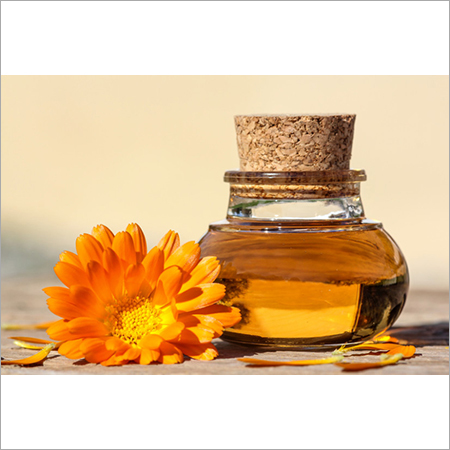 Product Description
Calendula Essential Oil

Calendula Oil - A Macerated Oil
Our calendula oil that we produce and supply to the customers is now and again erroneously mistook for tagetes, which is additionally some portion of the family of marigold. Yet, our product is what is categorized as an infused or macerated oil, where the plant is implanted in oil then the herbal material is expelled, part the oil with several qualities of the vegetative material.

Calendula Oil Marigold
Calendula has high anti-inflammatory features and vulnerary qualities, enabling it superb for help with hardheaded injuries, bed sores, bruises, eczema, varicose veins, rashes and so forth.

Our Calendula Essential Oil is extraordinary to help with inflamed, itchy and sore skin problems, additionally for eczema, nappy rash and burns and in addition, sore broke areolas. It is additionally utilized to spider veins and treat thread and furthermore, varicose veins.

Calendula rub oil has awesome recuperating, calming and softening properties, which settles on it a decent decision to incorporate when blending a back rub oil or making a carrier oil mix.

When searching for a base oil for rubbing to utilize when experiencing skin issues, either without or with the expansion of fragrance oils, then recommend Calendula Oil for Baby.

Macerated Oil
Along with maceration derivation strategy, the blossoms are absorbed in warm oil to make their cell layers burst and the warm oil then assimilates the fragrance. The macerated oil is then discharged of the plant and emptied.

Medical Advantages Of Calendula Essential Oil
Mending Properties
Oral Wellness
Enhance The Visual Aspect Of Skin
Eye Sight Health
Aggravation
Malignancy Prevention
Cramping

What Are The Applications Of Calendula Oil for Baby ?

Wellness and Health: It has sudorific, antispasmodic and emmenagogic qualities, yet it is primarily utilized for healthy skin treatment and care. It has incredible vulnerary and anti-inflammatory activity, making it supportive with headstrong injuries, bed sores, rashes, acne, ulcers, eczema, varicose veins and allied conditions. Further, it relieves sore, aggravated and irritated skin problems. Calendula oil additionally helps with softening and soothing skin, making it a decent option to back rub oils or while making a carrier oil mix.
Cooking: The marigold petals have been utilized for shading butters, side dishes and cheeses. Amid the Elizabethan time, both leaves and petals were utilized as a part of plates of mixed greens, in spite of the fact that the last appeared to be extremely solid. The petals seasoned stews and soups.
Practical utilization: Marigold is being utilized as a color. Parched petals can additionally be included blends.

Is Our Calendula Oil Safe ?

Our Calendula Essential Oil is normally safe for exercise, but it is suggested to regard the accompanying safety instructions and considerations.
Breastfeeding and pregnant ladies ought to normally avert utilizing our oil. Try not to take it orally because there is a problem that it may induce a premature delivery or miscarriage. Prevent from topical usage also.
A hypersensitive response may happen in people, who suffer from sensitivity to ragweed as well as allied plants, for example, chrysanthemums, daisies and marigolds. Prior to utilizing our calendula oil, consult the health care provider in case you have hypersensitivities.
Consolidated with prescriptions utilized amid and following surgery, our product's utilize may induce an excess of tiredness and ought to be paused no less than two weeks prior to surgery.