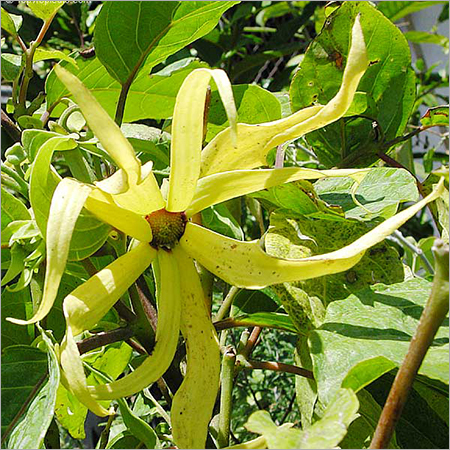 Product Description
Cananga Essential Oil
Origin and Derivation of Cananga Essential Oil
Cananga is a tall tropical tree that stands up to 20m high with large, aromatic flowers, which can be mauve, pink or yellow. The yellow flowers are well-advised best for excerpting the essential oil. Also known as Ylang Ylang and Perfume Tree, it is a common tree in Indonesia. Its aromatic flowers are used for personal adornment. The Cananga Essential Oil is the acquired from the flowers of this plant through the process of distillation. It is erstwhile utilized as an economic utility for Ylang Ylang Oil in fragrance usages.

What are the healthful usages of Cananga Oil for Hair ?
Common uses of this oil are numerous. The oil is believed to have anti-depressant, anti-infectious, euphoric, nervine, hypotensive, aphrodisiac, anti-seborrheic, regulator, sedative (nervous), antiseptic, stimulant (circulatory) and tonic properties. Some of the uses are listed below :
Aromatherapists commend this oil to better circulation, obviate toxins, as well as to treat insomnia and high blood pressure.
To relieve stress and anxiety, used as a home herbal curative.
The Cananga Essential Oil is often utilized for its different calming and moistening properties
Also used for the treatment of split ends, oily skin and hair and itchy scalp.
Utilized to treat wounds and several skin diseases because of its expected antibacterial and antiseptic properties.
Cananga is usually utilized for adding aroma to different aromatherapy products such as: massage oils, face creams, shampoos body lotions, scented sprays etc.

What are the precautions needed for using Cananga Oil ?
The only caution someone needs to have in mind is that this Cananga Essential Oil is though non-toxic but can result in some kind of sensitization. It is highly recommended to use this oil after well diluting and should be avoided during pregnancy.