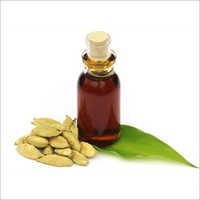 Cardamom Essential Oil
Price And Quantity
Product Specifications
Essential Oil, Other

Green and Grey
Product Description
What is Cardamom Seed Oil ?
The botanical name of the Cardamom Essential Oil is Elettaria cardamomum, which is a thin and runny liquid. The oil smells spicy, warm and balsamic with woody tones. This Cardamom Essential Oil looks as anything from colorless to pale yellow and clear liquid.

What are the toxicological properties of Cardamom Essential Oil ?
The Cardamom Essential Oil has a musky, warm and spicy fragrance and the oil's color differs on the basis of its formulation with bark or leaves. The viscosity of the product is medium to watery. This spicy essential oil has good value in aromatherapy and it relieves you from exhaustion and the feeling of depression and impotence. It has compelling anti-rheumatic properties, is extremely helpful in the digestive system, while combating with colds and flu. Cinnamon oil is analgesic, antibiotic, antispasmodic, antiseptic, aphrodisiac, astringent, cardiac, emmenagogue, insecticide, stomachic, tonic, carminative, stimulant and vermifuge.

What are the main usages of Cardamom Seed Oil ?
Cinnamon oil's goodness lies in its quietening and toning effect in the respiratory problems, the nervous system, and in the alleviation of colds and influenza and period pains. It cures the digestive system and assists with arthritis and rheumatism. Although conventionally used for cleaning warts, it is not suggested to be utilized in the skin care products. In vapor medical aid, cinnamon oil can be utilized in chronic bronchitis and colds, as well as sneezing. The Cardamom Seed Oil also helps for those suffering with depression and weakness.

It can be utilized in blended massage oil, or dilute in the bath, to aid with bronchitis, chills, infections, flu, diarrhea, arthritis and rheumatism. Due to its very compelling antiseptic properties it is great in fights against infectious diseases. It also helps in the calming spasms of the digestive ares, sickness and vomiting. It excites the release of digestive juices, while relieving muscular and joint pains related with rheumatism and arthritis.

Chemical constituents included in Cardamom Seed Oil :-
Cardamom Essential Oil has different chemical compounds, which include a-phellandrene, linalool, linalyl acetate, nerol, geraniol, terpineol, citronellol, trans-nerolidol methyl eugenol limonene, a-&b-pinenes, sabinene, a-terpineol acetate, a-terpineol, terpinolene,terpinen-4-oil, myrcene, cineole,terpinene, p-cymene, 1,8-cineole, y-terpinene.

Extraction technique: The seeds of Elettaria cardamomum are steam-purified to acquire the Cardamom essential oil.

Gels well with: The Cardamom Seed Oil is 'Blend-friendly' with numerous oils such as Bay, Bergamot, Cloves, Coriander, Cinnamon, Litsea Cubeba, Fennel, Black Pepper, Orange, Palmarosa, Jasmine, Lemon, Lemongrass, Patchouli, Caraway, Cedarwood, Mandarin, Ginger, Grapefruit, Vetiver, Ylang Ylang, Neroli, Petitgrain, Sandalwood, oils.

How Cardamom Seed Oil is different from other essential oils ?
The Cardamom Essential Oil oozes with umpteen medicinal and therapeutic qualities namely – anti-septic, carminative, cephalic, digestive, diuretic, anti-spasmodic, laxative, nerve tonic, stimulant and stoma-chic, which make it one of the most favored essential oils.

What are the benefits of Cardamom Seed Oil ?

Therapeutic: When mentally exhausted, the oil helps with its energizing and uplifting effect. It assists the memory phenomenally.

Medicinal: The oil helps in regulating the digestive system and acts as a laxative, thereby calming griping, dyspepsia, wind and nausea problems. It warms the tummy and helps in overcoming pyrosis. The Cardamom Seed Oil is also a notable remedy for impotency and low sexual response.

Cosmetics and Perfume: This oil finds many usages in the perfumery industries. It is added to oriental-type scents for preparing cosmetics, soaps and various other body care products. It is a favored pick in perfumery mixture for making of men's perfumes. Cardamom Seed Oil is peculiarly used in the formulation of Eau De Toilette and Curve Colognes sprays for men.

Miscellaneous: It is largely used for flavoring baked goods, coffee, curries and pickles, milk desserts, a mix of potpourris, mulled wine and several other drinks.

Trade Information
Telegraphic Transfer (T/T), Cash in Advance (CID)

2-3 Per Day
Sample costs shipping and taxes has to be paid by the buyer

HDP