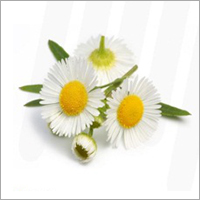 Product Description
One oil that deserves a special place in your essential oil collection is Chamomile Roman Oil. Having a mildly floral and sweet aroma, this essential oil when inhaled calms the mind. Simply add two drops of this oil in a bowl of water and soak in the aroma for de-stressing your mind and body. One can also blend this oil with a daily moisturiser for nourishing the skin. The oil also promotes good and healthy locks, thanks to the presence of many active ingredients. Washing hair with water infused with this oil will also keep your mane smelling deliciously floral.

Main Uses:
1) Can be used as a flavouring agent in teas and other beverages.
2) It can be used to tame an irritable or bad mood.
3) It can be topically applied on skin for calming the mind and soothing the soul.
4) As it blends well with other floral essential oils such as lavender, ylang ylang, etc., it finds great use in the field of aromatherapy.