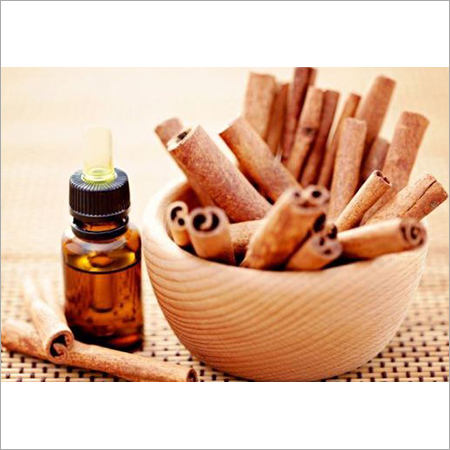 Product Description
Cinnamon Bark Essential Oil
What Are The Toxicological Properties Of Cinnamon Bark Oil ?

The Cinnamon leaf oil has a spicy, warm and musky smell and the oil's color differs red-brown for the bark oil and yellow for the leaf oil that is not usually utilized in aromatherapy. The consistency is medium to wet. This piquant essential oil has good value in aromatherapy and it combats against exhaustion, depression and weakness. It has coercive anti-rheumatic qualities and is useful in the digestive system and fights with colds and flu. Cinnamon Bark Essential Oil is antibiotic, antispasmodic, aphrodisiac, astringent, analgesic, insecticide, stimulant, stomachic, antiseptic, emmenagogue, tonic, cardiac, carminative, and vermifuge.

What are benefits of Cinnamon Bark Essential Oil ?

Cinnamon Bark Oil's goodness lies in its calming and toning effect on the respiratory area, the nervous system, and in the relief of colds, period pains and influenza. It also soothes the digestive system and helps with arthritis and rheumatism. Although conventionally used for clearing bumps, Cinnamon Bark Essential Oil is not suggested to be utilized in skin care products.
In vapor therapy, the oil can be employed in chronic bronchitis and colds, sneezing, lifting depression and removing the state of weakness.

How can Cinnamon oil be used in blended form or in the bath ?

Cinnamon Bark Oil can be utilized in blended massage oil, or dilute in the bath, to aid with bronchitis, chills, arthritis, infections, flu, diarrhea and rheumatism. Due to its much coercive and antiseptic properties it is good for fighting against the diseases of infections. Young living cinnamon bark oil furthermore has outstanding value in pacifying spasms of the digestive area, vomiting and nausea. It excites the secretion of digestive juices, while relieving joint and muscular pains related with arthritis and rheumatism. Care should nevertheless be taken not to bother the skin and mucus membranes.