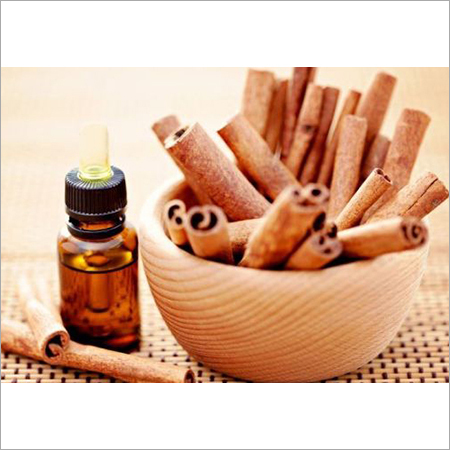 Product Description
There is a long list of cinnamon benefits. The Cinnamon Leaf Oil has good antiparasitic, anti-inflammatory, antiviral and antiplatelet properties. It is very useful for improving immunity. The essential oil benefits are attributed to its major active ingredients, such as cinnamaldehyde, eugenol, phellandrene and methyleugenol. Thus, it is used to produce medicinally valuable products. Cinnamon leaf oil has a spicy & musky odor, and has a light color.
Some of the well-liked health benefits of the cinnamon oil include :-


Increases circulation
Decreases inflammation
Relieves depression
Fights viruses and free radicals
Boosts the immune system

How Does Cinnamon Oil Work ?

Cinnamon leaves contain phenols, which provide cinnamon leaf oil. It features health-promoting and rejuvenating quality. The oil comprises 80 percent phenols, primarily eugenol which has antiseptic, anesthetic, antimicrobial & antioxidant properties. However, the eugenol might irritate your skin especially the mucous membranes.

Cinnamon Leaf Oil Uses :-

It can be utilized as an additive in flavouring, soaps and seasonings etc. Good for aromatherapy uses, the oil also has health-promoting effects. Cinnamon leaf oil is great for your health and home in different ways. It offers insulin-like effects, which are useful for diabetics.

Cinnamon Leaf Oil for Face, Blended oil or in the bath :-
Cinnamon Leaf Essential Oil can be used in blended massage oil, or diluted in the bath, to assist with bronchitis, diarrhea, chills, infections, flu, rheumatism and arthritis. Due to its very powerful antiseptic properties it is good for fighting any infectious diseases. It furthermore has great value in calming spasms of the digestive tract, nausea and vomiting. Cinnamon Leaf Essential Oil stimulates secretion of digestive juices, while easing muscular and joint pains associated with rheumatism and arthritis. Care should however be taken not to irritate the skin and mucus membranes.