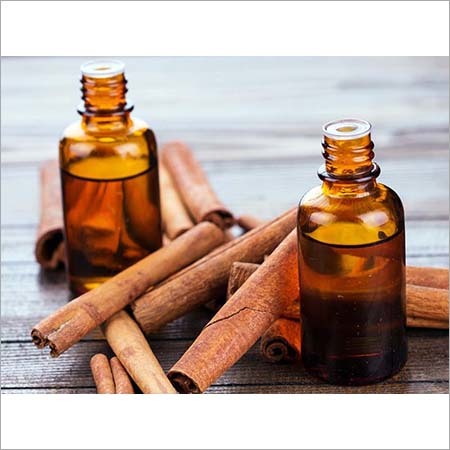 Product Description
Cinnamon Leaf Essential Oil
What Is Cinnamon Leaf Oil ?
Cinnamon Essential Oil comes from the family of Cinnamonum verum from the palnt family of Laurel Lauraceae. It is one of the oldest spices illustrious to man and was valuable in ancient Egypt not just as a medication and beverage flavoring but also as an embalming cause and is also cited in the Bible.

How Does Cinnamon Leaf Essential Oil Work ?
The phenols present in cinnamon leaves provide the Cinnamon Essential Oil its revitalizing and health-promoting quality. The leaf oil comprises 80 percent phenols, primarily eugenol that has anesthetic, antimicrobial, antiseptic and antioxidant properties.

What are the health-giving benefits of Cinnamon Leaf Oil ?
Cinnamon Essential Oil can work wonders as a fast pick-me-up or prosody buster after a hectic and tiring day.
It soothes the aching joints and muscles. This oil has a warmed and antispasmodic effect on the human body, which helps in easing sprains, rheumatism, muscular aches and arthritis.
It's a tonic, which assists in decreasing drowsiness and bestows the energy if some one is physically or mentally exhausted.
Offers advantages against viral infections, such as colds, cough and helps in preventing them from spreading.
Cinnamon Essential Oil also helps in removing blood impurities and even assist in rising the blood circulation.
Working as an anti-fungal, antiviral, antibacterial it is also effective for treating external and internal infections.
It helps in destructing germs in the gall bladder as well as the bacterias existing in staph infections.
Works as a coagulant, which helps to stop excess bleeding, facilitates the curative process.
Used in chewing gums as a mouth freshener that withdraws bad breath.
Effective in giving relief from cramping and menstrual discomfort.
Can naturally help in keeping arteries clear, includes circulation-boosting abilities.
Has positive effects on insulin liberation, which means it can assist in keeping blood sugar stabilized and prevent acute fatigue.

Concerns related to Cinnamon Essential Oil
Cinnamon Essential Oil is commonly well-advised as a safe, but there's always the possibility that certain people might act to essential oils severely if they're delicate to certain compounds' effects. The sensitive people may experience allergies when the oil is taken or applied locally. This might turn up the skin irritation, such as rashes and itching on the body.