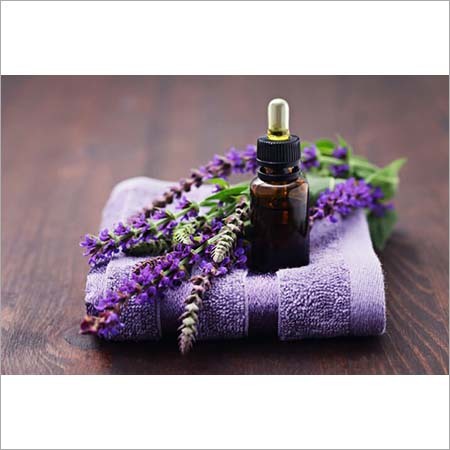 Product Description
Clary Sage Essential Oil
What is Clary Sage Oil ?
The next relative of the garden sage, the clary sage is an annual herb, which grows from May to September. It is excerpted from the clary sage herb (Salvia sclarea), which was found in Syria, Italy and Southern France but now is cultivated world-wide. When regenerated into an essential oil, clary sage gives healthful benefits for the eyes, digestion, nervous system and kidneys.

Uses of Clary Sage Essential Oil
The Clary Sage Oil is added to creams, lotions, soaps, detergents, and perfumes. In fact, it is the primal component of, which is a simple perfume, which is developed in Cologne, Germany.
Apart from powerfully treating eye health-related problems, the Clary Sage Oil is also utilized to assist in calming the nervous system, particularly during the times of depression, stress and insomnia.
Clary Sage Essential Oil also helps in addressing menstrual issues, ease menopause symptoms and brings relaxation during childbirth.
Clary Sage Essential Oil relieves muscle stiffness, headaches, back pain and muscle spasm.
Helps in reducing blood pressure by relaxing the arterial blood vessel and decreases the risk of heart problems.
Clary Sage Essential Oil is considered to help in stimulating hair growth. The oil also helps in confining the sebum made in scalp and assists in treating dandruff.
As an optimal skin health promoter, the oil can help in regulating oil
Acts as an anticonvulsive, anti-fungal, anti-infectious, antidepressant, astringent, antiseptic, antispasmodic and anti-inflammatory properties.
Effective in diminishing blood pressure by making relaxation in the the veins and arteries and eliminates the responsibilities of atherosclerosis, heart attacks, strokes, and brain hemorrhage.

What are the emotional benefits presented by Clary Sage Oil ?
The Clary Sage Oil is for dispelling illusion and confusion from the mind, it's often utilized on the brow and during contemplation, meditation or creative work. The aroma of the Clary Sage Essential Oil is very quieting and euphoric to the mind.