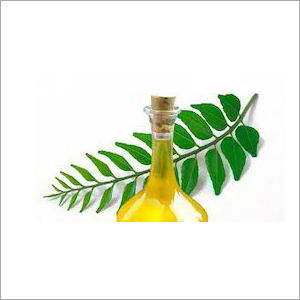 Product Description
Curry Leaf Oil we offer is an extremely aromatic essential oil with special uses in the field of Ayurveda and other areas. As the name implies, the oil is extracted from fresh and fragrant curry leaves from the Girinimba or Krishnanimba tree that are physically quite similar to bay leaves. Presence of caryophyllene and 3-carene is what gives the leaves a highly aromatic odor that proves to be beneficial while processing Curry Leaf Oil that is extracted from these leaves via the steam distillation method. In the realm of holistic cure and healing, both the leaves and the essential oil derived from these leaves are used for curing a host of diseases.

Main Uses:

1) It is used for treating diabetes, liver problems, stomach & gastrointestinal ailments, etc.
2) Curry leaf oil also cures problems related to eyesight.
3) The oil is effective against diarrhoea and problems of high cholesterol.
4) It can also help to curb various oral, hair and skin problems.