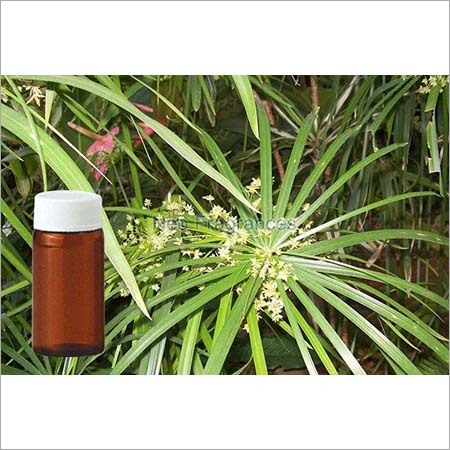 Product Description
Botanical Name: Cyperus Scariosus
Cypriol Oil Overview

Cypriol oil is extracted from the root of cyperus scariosus plant, which grows in wild in India. It is valuable for its therapeutic properties and utilized in aromatherapy. The essential oil features an earthy and woodsy aroma, ideal for perfumery formulations. The cypriol oil is helpful in various illnesses and conditions, including fever, skin diseases, burning maturation, rheumatoid arthritis, neurasthenia, kidney stones, and other problems. As decongestant, it is curative for colds, cough, and several decongestive issues. Naturally rich, efficacious and assistive, cypriol oil can help in a number of health, skin and other problems.


Well-liked by the perfume industry, the cypriol essential oil has many beauty-enhancing qualities. For generations, it has been used to boost skin and deal with several skin conditions. It offers calming effects for skin, and helps decrease redness & irritation. Some major health benefits are:-


Relieves Stress.
Good for Diabetes.
Cure Diarrhea and Wound Healing.
Boost the Nervous System.

It is ideal for use in incense, perfume, or meditation. Some of the common uses of Cypriol Oil are following :-


Aromatherapy uses: Anti-anxiety, Anti-inflammatory, Decongestant, Improve circulation, and Nervousness.
General uses: Massage oil, perfume, oil diffusers, bath & skin care, facial masks, soaps, creams, lotions, and candles etc.
Therapeutic uses: Improve menstruation, general debility, skin infections, decongestive issues, and digestive system conditions.

Contraindications: Avoid use during pregnancy or nursing, and with children.


What is Cypriol Essential Oil and how it is obtained ?
Cypriol Essential Oil is refined via the root of the cyperus scariosus plant, which grows wild in India. Extensively utilized in aromatherapy this yellow clear fluid of the oil has a wooded and earthy aroma similar to cinnamon. The Cypriol Essential Oil is used to deal with many sicknesses and conditions, which includes burning maturation, fever, skin contagions and also painful menstruation, diseases, rheumatoid arthritis, fibromyalgia, general debility, neurasthenia, kidney stones and gout along with some other uric acid problems.

Health benefits offered by Cypriol Essential Oil
The Cypriol Essential Oil is used in the treatment of skin diseases such as Dermatitis and Psoriasis.
It cures the acne, pimples and other skin blemishes.
Used with burners and vaporizers.
Alleviates stress.
It efficiently helps in discarding intestinal worms.
Advantageous for the diabetes patients.
Used for curing wound healing, menstruation pain, general infirmity, profitable effects in fibromyalgia and painful kidney stones.
Comforts upset stomach.
Extremely beneficial tonic for the nervous system.
Cypriol Oil is also used in assorted ailments such as fever, skin diseases, rheumatoid arthritis, kidney stones, burning maturation, aching menstruation, neurasthenia, general debility, fibromyalgia, gouty arthritis and some other uric acid sensitive conditions.
Used in combination perfumes, in the preparation of medicines, soaps and scent sticks.
It is utilized as a hair wash and treats hair and scalp conditions.

Main constituents of Cypriol Oil
Cypriol oil has several chemical compounds, which include cyperotundone, patchoulenone, sugeonol, kobusone, cyperone, selinene, cyperene and isokobusone.


What Remedial Properties Cypriol Oil have ?
Digestive, diuretic, hemostatic, vermifuge, febrifuge, carminative, diaphoretic, and hypotensive.

Chemical Components:
The main constituents are sesquiterpenes, sesquiterpene alcohols and sesquiterpene ketones.

Toxicological Properties:
As a negative side effect, it could cause bleeding so pregnant women should avoid this oil.

Uses & Precaution of Cypriol Oil :-
Cypriol Essential Oil has decongestative abilities.
It is used to cure diarrhea and problematic digestive problems. It is also very helpful in mucus, scanty periods and scabies.
This essential oil is an effective oil to kill intestinal worms. It can work as a general tonic and nerve binder; promotes uterine contractions and can bind stools if you have an upset tummy.
Cypriol Essential Oil works well against anorexia, intestinal bleeding and non-specific colitis too. This oil is used in other illnesses like skin diseases, fever, rheumatoid arthritis, gout and other uric acid related illnesses, general debility, painful menstruation, kidney stones and fibromyalgia.
This plant can be used in paste form on skin related ailments. It can help relieve itching. It can also improve eyesight and be used in eye related ailments. Cypriol Essential Oil is used in perfumes and in incense sticks. In powder form, cypriol is used in epilepsy and psychosis along with maintaining a normal body temperature.
Shipping Options:
We have shipping our goods by Air as well as Sea and also shipping i.e. DHL, FedEx, UPS, TNT, & EMS.
Attributes of Cypriol Oil :-
| | |
| --- | --- |
| Product | Cypriol (Nagar Motha Oil) |
| Lot No. | 190101 |
| Manufacturing Date | Jan. 2011 |
| Best before | Jan. 2013 |
| Appearance | Mobile liquid |
| Colour | Dark Yellow to Brownish colour |
| Odour | Warm, Woody slightly typical note of Vetiver and Oudh |
| Botanical Source | Cypreus Rotandus |
| CAS No. | 91771-62-9 |

Physico-Chemical Properties :-
| | |
| --- | --- |
| Specific Gravity | 0.968 To 0.969 (0.960 - 0.975) |
| Optical Rotation | + 40 (+32 To +45) |
| Cyprene Contain | +30% |
| Main Constituents | High boiling sesquiterpenes, sesquiterpene alcohols, Ketons and composition very similar to Vetiver Oil. |