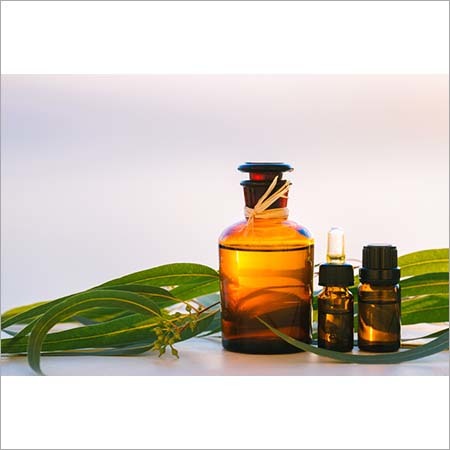 Product Description
Eucalyptus Essential Oil

What is Eucalyptus Oil ?
The usages of Eucalyptus Essential Oil uses have long been famous to include anything pointing the deodorize, respiratory system and more. The Eucalyptus Essential Oil is made through the steam distillation of the leaves from the trees and shrubs, leaving a fragrance, which is sweet, camphorous and somewhat fruity.

How Eucalyptus Essential Oil is beneficial for the health ?
Helps with clear breathing, acts as an expectorant and helps in cleansing the toxins of body and some other noxious microorganisms, which can make a person sick.
Assists the overall respiratory health.
Comforts tired and sensitive muscles.
The Eucalyptus Essential Oil bestows the hair with a nice moisturizing pick-me-up and is particularly great for warding off dandruff as well as an itchy scalp.
It has ability to boost immunity, give antioxidant protection and amend respiratory circulation.
Eucalyptus Essential Oil has antiseptic and antimicrobial properties, which are effective for treating cuts, abrasions, wounds, scrapes, burns and sores.
Extremely effectual in removing the spots on the clothes, carpet and essentially every fabric of the house.
Help in controlling blood sugar, Eucalyptus Essential Oil has vasodilato properties and thus increases the blood circulation.
Used for the treatment of fever and diminishing body temperature.
Deodorant and antiseptic nature of Eucalyptus Essential Oil makes it a complete room freshener for hospitals. It kills germs and bacterias in the air, safekeeping the environment of the rooms and makes it clean and disinfected.

What emotive benefits are conferred by Eucalyptus Oil for Hair ?
Its fragrance is more usually famous for it's assistance of the respiratory system. It also has skin related concerns. Aromatically, it has some engrossing psychological advantages too. Particularly, it associates to a person's disposition to be well. Some people may think that everyone wants to be well, but don't admit the often inherent patterns that keep us in continuing sickness. It can be reasoned because of the feelings of "selfishness", hypochondria, lack of self-love etc. The Eucalyptus Essential Oil utilities may then include serving the persons to recover their own health management, self-love, self-approval and discharge the patterns of privation to those who are not inclined to love or care for them.