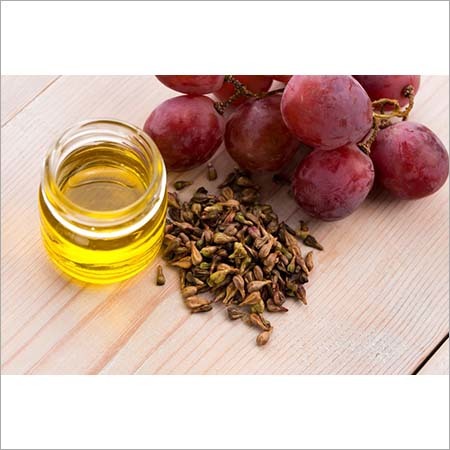 Product Description
Grape seed Essential Oil

Extraction of Grapeseed Oil for Hair Loss
It is excerpted from the seeds of grapes, specifically wine grapes. While grapes are one of the most best-selling fruits of the world, just about all throw out their seeds, but adepts say that those seeds may really be the healthiest part of the grape. These seeds are loaded with natural plant compounds and powerful antioxidants, which are known as oligomeric proanthocyanidin complexes. The oil has two primal usages, including culinary and cosmetic applications.

How the Grape Seed Oil is good for skin ?
The Grape seed Essential Oil comprises linoleic acid, which strengthens the cell membranes and amends the total quality of the skin. Its day-after-day usage cures different types of skin problems including acne and zits. It has styptic properties and the regular application of this oil results in skin toning and tightening. The lipid lessens under-eye circles and prevent skin aging as it is full of antioxidants, which are excellent for stopping the skin aging process. The oil includes all the essential nutrients, which help the hair to grow faster. It contains Vitamin E, minerals, proteins and linoleic acid, which nurture the hair and scalp. The oil moisturizes the hair and scalp and combats with dandruff. It bestows shine to hair and helps in strengthening hair. Being hypoallergenic, the oil suits even the sensitive scalp and hair and act as a natural conditioner.

Other health benefits of Grape Seed Oil
The Grape seed Essential Oil can help in repairing and strengthening damaged or broken blood vessels and capillaries. This in turn, can assist in improving circulation as well as alleviating conditions such as, spider veins, varicose veins and hemorrhoids.
The oil has anti-inflammatory attributes, for which it can give alleviation against swelling and pain grounded by arthritis.
Even in states like, rheumatoid arthritis, the oil can give great relief.
Many surveys conclude that grape seed infusions help in preventing prostate, stomach, colon, lung and breast cancer cells.
The Grape seed Essential Oil proves to be beneficial in conditions such as asthma, dermatitis, allergies and acne.
Grapeseed Oil for Hair Loss contains proanthocyanidin that is much powerful antioxidant and helps in decreasing the sun's detrimental effects and reduces free radical damage.
Helps in reducing swelling, which can occur after injury or surgery.
Help in the prevention of skin cancer.