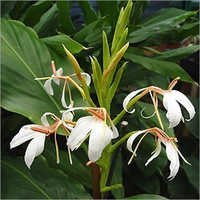 Hydichium Spictaum Oil
Price And Quantity
Product Specifications
Product Description
Color, consistency, strength of Hydichium Spictaum Oil :

A slightly thick, olive green to brown liquid. A middle note with a average fragrance, it has warmed woody notes with a tint of spice as well as a soft flowered touch.

Constituents & Specifications :

Hydichium Spictaum Essential Oil has different chemical compounds, which include sesquiterpenes, methyl paracumarine acetate, ethyl ester of p-methoxy cinnamic acid and also incorporates glycoside and sitosterol.

Properties :

It is bactericide, anti-inflammator, expectorant, febrifuge, fungicide, stomachic, carminative, excitant, tonic and stimulant and anti-rheumatic.

Uses of Hydichium Spictaum Essential Oil :-
Due to its spicy, woody and peculiar odor, it is used in perfume preparations. It is utilized in hair oil particularly to prevent hair-fall and baldness and makes them more controllable.
Hydichium Spictaum Essential Oil is helpful in nausea, asthma, local inflammations, hiccups bronchitis and in pain.
It antagonizes had smell and mouth taste.
Utilized in treating nausea, vomiting, diminished appetite and inflammation.
Advantageous in the remedy of asthma and interior injuries.
Utilized an antiseptic agent.
Treats food indigestion, liver problems and poor blood circulation.
Healthful values for the medication of bronchitis.
Utilized in perfume formulations.
What are the heath benefits bestowed by Hydichium Spictaum Oil ?
The oil was utilized by Hawaiians to treat fetid nostrils.
The oil cures boils, bronchitis, local inflammations, nausea, asthma, pain and in hiccups.
Ginger Lily oil acts expeditiously against liver ailments and in cases of stomach upsets and diarrhea.
The essential oil has sedative and anthelmintic qualities.
It fights with bad smell and mouth taste.
The oil acts as a digestive, vasodilator and stoma chic.
The Hydichium Spictaum Oil is utilized in the treatment of halitosis, vomiting, and vitiated appetite.
Common usages of the oil include treating blood pressure, motion sickness and joint pain sensation.
The Hydichium Spictaum Essential Oil is utilized in the treatment of interior injuries.
The essential oil with powdery rhizomes is utilized as a poultice and antiseptic for muscle spasms and different aches.
The oil is also facilitative in poor blood circulation as well as for food indigestion.
The Hydichium Spictaum Essential Oil is expectorant, stimulant, carminative, tonic and emmenagogue.
It is also used in the treatment of conditions such as stress, nervous exhaustion, frozen shoulders, strains, migraines and accidental injuries.
The oil has both anti-viral and anit-bacterial properties, which acts efficaciously against fungi and gram positive bacteria.
The Hydichium Spictaum Essential Oil also boosts the immune system, excites hormones, excites energy, and generates relation.
Superior assistance for respiratory problems.
Trade Information
Telegraphic Transfer (T/T), Cash in Advance (CID)

2-3 Per Day
Sample costs shipping and taxes has to be paid by the buyer

HDP