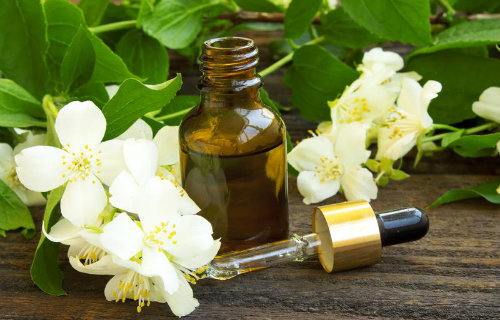 Jasmine Sambac Oil
Product Code : Jasmine Sambac Oil
Product Description
Description and Application

Wild-crafted in India, Jasmine Sambac Oil is drawn from the fragrant depths of night-blooming jasmine sambac blossoms. Having the Latin name as Jasminum Grandiflorum & Jasmine Sambac, this warm, relaxing and intoxicating oil is an aphrodisiac. Jasmine is known as the King of Flowers and the fragrance of this oil is probably the most masculine of other floral fragrances, particularly the Jasmine Sambac that is more spicy, musky, exotic and mysterious in comparison with other Jasmine species. The Jasmine Sambac Oil helps in fighting against depression and can also assist in finding a relaxing sleep. Jasmine has an age-long tradition of being utilized in childbirth as a relaxing as well as supportive curative. It is known as an optimal skin care ingredient that cures dry, sensitive as well as irritated skin.


Physical Properties

The effectiveness and incredible fragrance power of this essential oil makes it a great asset. If blended in a diffuser for, this can create a relaxing, feminine climate with its aroma. The physical properties of this oil makes it suitable for its utilization in hot bath, wherein it works as a blissful retreat.


Blends well with

The oils can be blended to almost all essential oils. It is extremely suitable to make a fragrance more round and complete and thus help in creating a romantic mood. It ca also be blended with some aphrodisiacs - Sandalwood, Rosewood, Patchouli, Vetiver, Rose, Ylang Ylang, Bergamot, Orange, Lavender and Geranium, Frankincense, Clary Sage and Mandarin & Neroli.

Precaution
The overdosing of Jasmine Sambac Oil can be overpowering. Approved by GRAS (Generally Regarded As Safe), this stands as a great food flavor. It is better to do a patch test, before its utilization on sensitive skin.
Specification of Jasmine Sambac Oil :-


Product
Jasmine Sambac Oil
Appearance
Fluid liquid
Source
Flowers
Color
Dark orange Reddish
Odour
Floral, rich, exquisitely exotic and graceful
Production Method
Solvent Extracted
Physico-Chemical Properties
Refractive Index at 20° C
1.450-1.525
Optical Rotation at 20° C
-4 to –15
Specific Gravity at 20° C
0.960-0.980
Solubility
Soluble in Alcohol and other organic solvents.