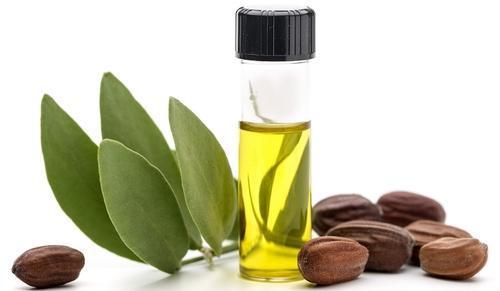 Product Description
Botanical Name: Simmondsia chinensis
100% unadulterated, regular, grungy means our Jojoba Oil is the best normal remedy for hair and skin needing somewhere in the range of careful attention. We don't process, refine or treat our oil in any capacity or state. This implies the oil you obtain will be completely unadulterated with 100% vitamins in place as well as none of the strength lost. Provided Jojoba Oil is cool squeezed and brilliant in shading and rich in characteristic plant wax, myristic acid, vitamin e, vitamin b6, vitamin b2, vitamin b and vitamin a. Intense against bacterial properties enable our oil to perform as a delicate astringent, clearing pores and rinse skin of unsafe illness and germs causing substances. Being pressed our jojoba oil guarantees no change to the attributes of oil. It contains numerous nourishing agents, including long-chain basic unsaturated fats and greasy alcohols. In addition, offered oil is to a greater extent a wax than oil. This is thick, rich and sets at just below ordinary room temperature.

Other Details :-

This Jojoba Oil is extremely nutritious as it isn't just rich in proteins and Vitamin E, yet in addition includes an exacerbate that looks like to collagen. Its supplement rich as well as penetrative nature enables it perfect for supporting skin, nail and treatment hair care blends. Our oil is implied for general shower care and back rub. 100% Unadulterated Jojoba Oil is gotten from the jojoba seed (Simmondsia chinensis) bush and is ostensibly a standout amongst the famous restorative oils accessible today. Its elevated strength, fortifying aroma and restorative adaptability make it perfect for all hair and skin hair sorts. Our is most regularly used to advance milder hair and skin.


Chemical Composition :-
Erucic- 16.3% Gadoleic- 69.3% Oleic- 10.1%

Uses & Precautions :-
Jojoba Oil used as a massage medium, it acts as an emulsifier with the skin's natural sebum and gently unclogs the pores and lifts grime and imbedded impurities.

It contains myristic acid which also has anti-inflammatory actions and since it has a similar in composition to that of the skin's own oils, it is quickly absorbed and is excellent for dry and mature skins as well as inflamed conditions


Shipping Options:
We have shipping our goods by Air as well as Sea and also shipping i.e. DHL, Fedex, UPS, TNT, & EMS.
| | |
| --- | --- |
| Product | Jojoba Oil Golden |
| Lot No. | As Mentioned On Label |
| Manufacturing Date | Jan - 2010 |
| Best Before | Jan - 2011 |
| Appearance | Fluid liquid |
| Colour | Yellow Clear colour at 25oC |
| Odour | Typical odour of Jojoba |

Physico-Chemical Properties:-
PARAMETERS

SPECIFICATIONS

Specific Gravity

0,860-0,870 ( 0.868)

Refractive Index

1,464-1,469 ( 1.4630)

Acid Value

0.34

Peroxide Value

3.90meq/kg.

Unsaponifiable matter

32.43%

Iodine Value

78-85 ( 84.70)

Saponification Value

77.72

Color Gardner

8-10 ( 9)

Bacteria –Total Plate Count

< 50 Complies

pH

2.91

Arsenic

0.42mg/Kg (D.L.0.1mg/Kg.)

Heavy Metals (as Pb)

Less than 10mg/Kg.

Fatty Acid Composition: Area %

18:1 Oleic

10-13 ( Complies)

20:1 Gadoleic

70-73 (Complies)

22:1 Erucic

12-15 ( Complies)

Ester Composition: Area %

C36

0-2 (Complies)

C38

5-8 ( Complies)

C40

26-34 (Complies)

C42

44-56 (Complies)

C44

8-12 (Complies)

C46

0-3 (Complies)