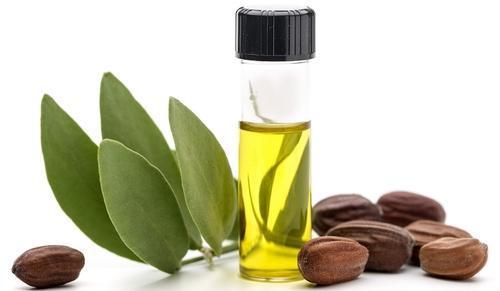 Jojoba Oil
Product Code : 16
Product Description
Jojoba Oil for Skin
What is Jojoba Oil ?
Technically and specifically Jojoba Oil for Skin is a wax, with low saturated fat. The wax is excerpted from a nut that grow up on the jojoba bush (Simmondsia chinensis), which is a desert plant and grows in the Northern Mexico and American South West. Cleansers, soaps and most of the other skin cleaning agents strip the skin of the secretion, which skin glands bring forth to lubricate the skin and protect it from dryness. All time we wash our face and hands, we take away a protective level of sebum along with dust and filth.

What are elements contained by Pure Jojoba Oil ?
What is best part about Pure Jojoba Oil is that it is loaded with almost all of the vitamins and minerals, which are essentially needed for healthy hair and skin, namely, copper, zinc, vitamin E, iodine, B-complex, chromium and selenium. It usually does not have any pernicious impact and can be utilized by even those who are having delicate skin without worrying for any allergic reaction.

Multifarious usages of Jojoba Oil for Skin :-

Hair conditioner
Refill moisture and better the texture of the hair, great for dealing with dry scalps and dandruff, adds natural shine and luster to the hairs and make them soft, manages unruly hair.

Facial cleanser
Kindred to coconut oil, the oil can be a part of your daily face wash.

Stretch and scar mark minimizer
Fade up the ugly skin issues including scars, scabs, and stretch marks because of its vitamin-E rich complacent. Plus, it may deepen the healing process of injuries.

Anti-acne gel
The anti-microbial properties of Jojoba oil is largely appreciated. It incorporates iodine that may fight with harmful bacteria development, which result in blackheads, pimples and breakouts.

Cuticle Oil
Can be used as a natural option to cuticle oil.

Anti-fungal cream
Pure Jojoba Oil can make your feet beauteous again. It heals the athlete's foot contagions, toenail fungus and bumps due to its anti-fungal and anti-inflammatory properties.

Anti-aging serum
This is the one of the powerful antioxidants, which helps in removing wrinkles and fine lines and gives a vernal glow.

Sunburn relief lotion
The Pure Jojoba Oil is also used in ancient medicine to treat heat rash, sunburn and some other minor skin irritations. It can provide comfort by reducing the peeling and flaking of the skin.

Makeup remover
Liquid liners and waterproof mascaras are wiped away with simplicity with the usage of this product. It may also be facilitative for clearing away powders, foundation and cheek stains.

Body lotion
Can be used as a regular body moisturizer due to its hydration benefits, reduces dryness and vexation.

Hair regrowth serum
Jojoba oil may disengage hair cysts that can in turn reduce hair loss and support more hair growth. The oil's antioxidant properties may also help in protecting the hair breakage, split ends etc.

How does Jojoba Oil work ?
Jojoba Oil for Skin is an emollient, which soothes the skin and frees hair follicles. The oil is also used for balding as some people think that unclogged hair cysts are more apt to make new hair.

Special Precautions & Warnings:-
Pregnancy and breast feeding. Application of the Jojoba Oil for Skin on the skin is likely safe, but it is totally unsafe to take it by mouth.