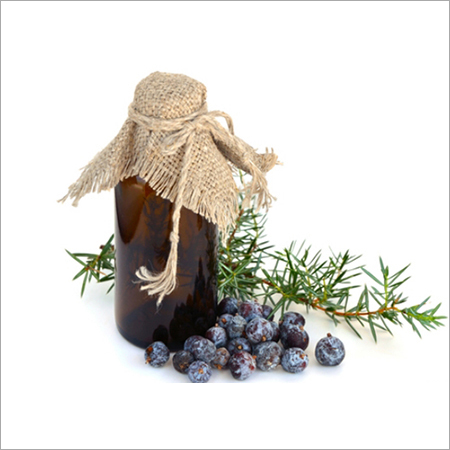 Product Description
Juniper Berry Essential Oil
Origin and description of Juniper Berry Oil :-
The Juniper Berry Essential Oilcomes from Cupressaceae family. The Juniper Essential Oil is excerpted from Juniperus communis and is also famed as common juniper. Juniper Berry oil is used in aromatherapy to assist in stimulating and strengthening the nerves and reinforce the spirits in intriguing situations. It also helps in relieving urine retention and is also utilized for treating arthritis, gout, rheumatism, dermatitis, blocked pores, cellulite, acne, psoriasis and dolorous eczemas. The Juniperberry Oil is extracted from dried, crushed or somewhat dried ripe fruit by the process of steam distillation. It blends well with cedarwood, cypress, bergamot, lime, vetiver, geranium, grapefruit, clary sage, lavender, lavandin and lemongrass.

What are the Chemical Components incorporated by Juniper Berry Essential Oil ?
The primary chemical components of this Juniper Berry Essential Oil are a-pinene, myrcene, a-phellandrene, a-terpinene, camphene, b-pinene, cineole, b-phellandrene, p-cymene, sabinene, bornyl acetate, cayophyllene, y-terpinene, 1,4- terpinen-4-ol, and trace quantities of limonene, linalool, linalyl acetate, camphor, borneol and nerol.

What are the toxicological properties of Juniper Berry Oil for Skin ?
This Juniper Berry Essential Oil is anti-rheumatic, antispasmodic, antiseptic, diuretic, rubefacient, stimulating, tonic, astringent, stomachic, sudorific, carminative, depurative and vulnerary.

What are salubrious effects of Juniper Berry Seed Oil ?
The Juniper Berry Essential Oil can help in pacifying the nerves, alleviates anxiety, nervous tension and mental fatigue.
It is useful when the prostate gland is expanded and can be used to help with the inability to run urine, in cases of kidney stones and cystitis.
It is also facilitative for cellulite as well as fluid retention and generally helps with the digestive system, peculiarly in cases of fatness, premenstrual bloating and over-indulgence of food.
It is well-advised as a non-toxic but is not recommended during pregnancy, nor by people who have kidney problems. It is non-sensitizing, but many people find a reaction to it, and it is in general should be used in moderation.
It has a tonic effect and aids in regulating the menstrual cycle and comforts aching period pains. It helps with the removal of uric acid and therefore palliates pain in cases of rheumatism, gout and arthritis.
Studies reveal that the Juniper Berry Essential Oil raises glomerular filtration, thereby causing the excretion of more amounts of sodium, potassium and chlorine.
Amalgamated massage oil or in the bath this can be utilized as a blended massage oil or dilute in the bath, for griping in adults, nervous tension, cellulite, arthritis, cystitis, painful sensation in passing urine, gout, liver problems, muscle fatigue, puffed joints, and overweight.
Juniper Berry Essential Oil, Used to obviate addictions, hangovers etc.