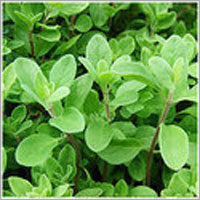 Marjoram Oil
Product Code : 24
Product Description
Marjoram Essential Oil
Family: Labiatae
Marjoram – A Perennial Herb

Widely used since ancient time, Marjoram Oil is known for its rich history and ability to enhance the aroma and taste of the food, the mentioned essential oil is a perfect additive to be used in the kitchen. Prepared using the method of steam distillation, this oil is obtained from the flowering tops.

How Does It Smell And Appear ?

It appears to be yellowish green in color that can turns into brown with the time period. It has warm, woody and spicy aroma, which is similar to the scent of cardamom and nutmeg. Transform your regular dishes into extraordinary ones using our offered essential oil.

Reasons to use Marjoram Oil

Rendering its benefits since centuries, it is known to be one of the best essential oils that is being used today for the following things:

Based on its calming effect, it can be used for getting relief to the muscles by applying it over the desired skin area.
Scientifically proven for treating a number of skin problems such as redness, skin irritation, burns, bruises and many more.
Due to its spasmodic properties, it is helpful in the treatment of high blood pressure and related cardiac problems.
Helpful in aiding digestive problems by secreting gastric juices.
Shipping Options:
We have shipping our goods by Air as well as Sea and also shipping i.e. DHL, Fedex, UPS, TNT, & EMS.
| | |
| --- | --- |
| Product | Marjoram Oil |
| Lot No | As mentioned on Label |
| Manufacturing Date | As mentioned on Label |
| Best Before | As mentioned on Label |
| Appearance | Fluid liquid |
| Colour | Yellow or Greenish colour |
| Odour | The odour is having a Spicy Aromatic Camphoraceous & Woody odour reminiscent of Nutmeg & Cardamom. The flavour is Spicy Warm Aromatic & somewhat bitter. |
Physico-Chemical Properties:-
| | |
| --- | --- |
| Specific Gravity | 0.890 -0.906 |
| Refractive Index | 1.4700 - 1.4750 |
| Optical Rotation | +4o To +24o |