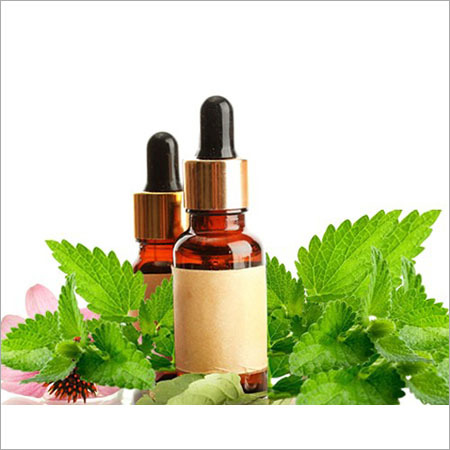 Product Description
Pure Melissa Essential Oil
What is Melissa Essential Oil ?
Melissa essential oil belongs to the mint family and is obtained by steam distillation process. The oil comes from the flowers and leaves of the plant. It has a soft lemony aroma, and some pretty awesome properties. It's most frequently utilized for skin-related issues, viral issues as well as for emotional support.

In how many ways Melissa Essential Oil has its application ?

Can be used aromatically
Can be ingested
Can be utilized topically

Special Properties : Calming, Antidepressant, Diaphoretic, Anti-inflammatory, Cordial, Carminative, Antispasmodic.

What are the emotional benefits Melissa Essential Oil provides ?
It is also said to assist a person through spiritual arousal. Similar to citrus oils, its citrus-like fragrance is ascension to the energy and mind, but it's particularly uplifting to the soul. The oil is beneficial for those who have gone in the depths of despair, hopelessness and self-doubt. It boost the person with positive energy who is feeling desperate or incapable to go forward. Melissa essential oil bestows the potential of joy, certainty and positivity.

What are the salutary benefits of Melissa Essential Oil ?
As an antidepressant, the oil is an effective mood lifter that boosts you with energy.
It is good for the treatment of anxiety, calming inflammation, trauma, nervousness, and stupefaction.
Melissa Essential Oil promotes a good sleep and give relaxation to the the body, mind and soul and gives the feelings of harmony and contentment.
Being a stomachic, it assists in the regular functioning of the stomach as well as of the digestive process.
Incorporating antibacterial properties it is extremely effective for suppressing bacterial infections in the intestines, urinary tract, kidneys and colon.
As an emmenagogue it solves many difficulties related to Post Menstrual Syndrome and menstruation.
Effective in the handling of herpes, ulcers, fungal infections, fatigue, sores, and headache and boosts the memory.

What are the precautions needed for using Melissa Essential Oil ?
The Melissa Essential Oil is tottaly non-toxic. It can possibly result in a dermal infliction and should not be taken by mouth without the consultation of doctor.
Introduction and Procedure of Derivation :-
Lemon analgesic (Melissa officinalis or Melissa Oil), common balm, balm mint or balm, is a lasting vegetative plant in the family of mint, which is known as Lamiaceae as well as local to south-middle Europe, Central Asia, Iran and the Mediterranean Basin, however now established in the Americas as well as elsewhere. It develops to a greatest tallness of 70–150 cm. The leaves of the plant have a mellow lemon fragrance like mint. Amid summer, little white blooms brimming with nectar show up. This is not to be mistaken for honey bee balm (variety Monarda), despite the fact that the white blooms attract honey bees, subsequently the sort Melissa (classic for "honey bee"). The leaves are utilized as a herb, in teas, as well as furthermore as an enhancing agent in sustenance. Further, the plant is utilized to pull honey bees for nectar generation. It is developed as a decorative plant as well as for oil (to utilize in perfumery). The lemon balm tea, the extract and the essential oil are utilized in alternative and traditional medication, including fragrance based treatment. Moreover, its plant has been developed since the sixteenth century, yet dependable therapeutic research is as yet attempting to set up the effects and protection of lemon balm.

Uses & Precautions :-

Our Melissa oil (Melissa officinalis, or its normal name, lemon emollient) is really from the family of mint as well as steam refined from the flowers and leaves of the plant.
It's certainly among the costly oils, possesses a delicate lemony smell as well as some really stunning qualities.

Shipping Options :-
We have shipping our goods by Air as well as Sea and also shipping i.e. DHL, FedEx, UPS, TNT, & EMS.