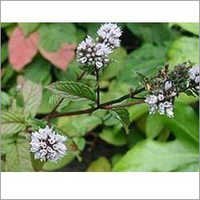 Mentha Piperita Oil
Price And Quantity
Product Specifications
Reduce Pigmentation, Provide Pain Relief

24 Months
Product Description
Mentha Piperita (peppermint) Oil is Good for Body, Health & Mind

Peppermint oil is a very versatile essential oil. It is appropriate for many oral and topical uses. Mentha Piperita has antimicrobial properties, effective for body as well as mind. The essential oil is collected by steam-distillation method, using the fresh aerial parts of the plant. Here the principal active ingredients are: menthol and menthone. The oil is utilized for its soothing effects and anti-nausea benefits. It has ability to reduce muscle cramps. Its health benefits are suited for a variety of ailments like: stomach upset, biliary disorders, inflammation, intestinal colic, gastritis, and gastrointestinal (GI) tract.

Highlights

With anti-irritant and bactericidal properties, Peppermint (Mentha Piperita) oil is refreshing & cooling


High therapeutic grade, pure & natural.
Soothing effects on the body.
Cost-effective and natural solution to pharmaceutical medicines.

Peppermint Oil Benefits :-

Peppermint is an incredible herb. It offers many benefits and good for overall health. Some of the peppermint oil utilization, are :-


Reduces abdomen aches and relieves digestive issues.
Refreshes bad breath and relieves anxieties.
Antimicrobial properties.
Improves mental focus and boosts energy.
Releases restricting muscles.
What Is Mentha Piperita Oil ?
Our company manufactures and supplies Mentha Piperita Oil, which is obtained from mentha piperita that belongs to the botanical family of labiatae. Mentha piperita is also known as balm mint and brandy mint by various people of the world. Our oil has refreshing and cooling property, which makes it widely utilized in fragrance treatment to promote the mind, to enhance concentration and to improve mental agility while reducing redness, calming itchiness as well as irritation and cooling the skin. Mentha Piperita Oil additionally assists to provide relieve to migraine, sinus, chest congestion, spastic colon and in addition, it also helps in boosting the digestive system of human body.


Oil Characteristics:
Our oil possesses sharp, menthol and fresh aroma. The color of our product will vary from translucent to light yellow and watery in thickness.


How Our Oil Is Extracted ?
We extract our oil from the complete plant of mentha piperita that grows above the surface prior to flowering. The oil is obtained through the process of steam distillation from partly dried or fresh plant, where the output is only from 0.1 to 1.0 %.


Composition of Chemical:
There are various chemical elements in our mentha piperata, which includes menthone, methyl acetate, isomenthone, b-pinene, germacrene-d, pulegone, menthol, 1,8-cineole, methofuran, limonene, a-pinene and trans-sabinene hydrate.


Safety Measures
Although our oil is non-irritant and non-toxic, yet sensitization can be an issue because of the menthol ingredient. It can induce aggravation to the mucus membrane and skin, which is why our product ought to be kept far from the eyes. Further, it ought to be abstained amid pregnancy and ought not be utilized on kids under the age of seven.


Helpful Properties:
The helpful qualities of our Mentha Piperita Oil are pain relieving, soporific, antigalactagogue, antiseptic, antispasmodic, carminative, antiphlogistic, astringent, cholagogue, decongestant, expectorant, cephalic, emmenagogue, hepatic, febrifuge, stimulant, nervine, sudorific, vermifuge and stomachic.


Mentha Piperita Oil Used For :-

It is amazing for depression and mental weakness, invigorating the soul and fortifying mental nimbleness and enhancing focus. It helps for shock, migraine, vertigo, faintness, apathy, headache and nervous stress and normally, respiratory issues and in addition sinus, asthma, pneumonia, cholera, dry coughs, congestion, bronchitis and tuberculosis.
Our oil is useful for problems of digestive system because it promotes the secretion of bile and gall bladder. It is utilized cramps, spastic colon, nausea, colic, dyspepsia and flatulence as well as can mitigate pain in aching feet, neuralgia, painful menstruation, toothache, rheumatism and muscular pains.
On the skin, our Mentha Piperita Oil is utilized to alleviate skin itchiness and irritation and furthermore decreases skin redness, where aggravation is available. It is utilized for dermatitis, ringworm, pruritus, acne and scabies and additionally mitigates sunburn, inflammation and itching of the skin, while in the meantime having a cooling activity.
Our Oil Mixes Well With:
Nevertheless most oils mix well with each other, our oil mixes especially well with eucalyptus, marjoram, rosemary, benzoin, lavender and lemon.
Specifications of standard variety of Indian Peppermint Oil :-
| | |
| --- | --- |
| Test | Specifications |
| Appearance | Colourless or pale yellow liquid |
| Odour | Refreshing mint odour |
| Identification | Complies with BP/USP |
| Solubility | 1ml dissolves in 4ml of 70% alchohol |
| Taste | Cool sensation in mouth and characteristic mint flavour |
| Solubility | 1ml dissolves in 4ml of 70% alchohol |
| Taste | Cool sensation in mouth and characteristic mint flavour |
| Acidity/Alkalinity | Neutral to Litmus solution |
| Specific Gravity | 0.900g - 0.916g |
| Refractive Index | 0.900g - 0.916g |
| Optical Rotation | -10° to -30° |
| Fixed Oils and Fats | Negative |
| L-Menthol Content | 37% - 40% |
| Total Menthol Content | Not less than 50% |
| Storage | Store in a cool, dry place in tightly sealed containers, protected from heat and light |
Trade Information
Telegraphic Transfer (T/T), Cash in Advance (CID)

2-3 Per Day
Sample costs shipping and taxes has to be paid by the buyer

HDP