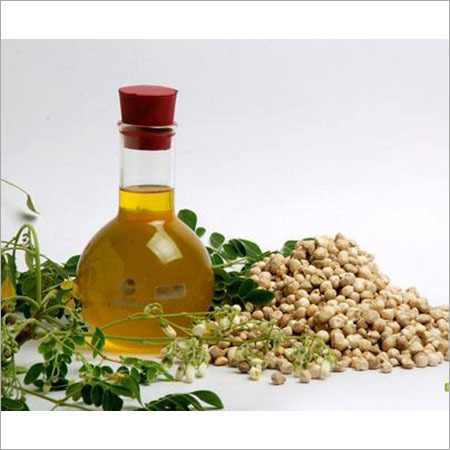 Product Description
Organic Moringa Oil, Pure Moringa Oil
The Origin of Organic Moringa Oil
Organic Moringa Oil is excerpted by pressing the seeds of Moringa oleifera. This palnt belongs to the Himalayan foothills. This tree grow up long pods that contain seeds and is quite nutritious. The oil can be excerpted either by cold pressed technique, or by solvent action. The Pure Moringa Oil is also famed as Ben Oil and Behen Oil.

What are the the rapeutic properties of Pure Moringa Oil ?
Due to its medicated properties Moringa Oil stands as following:
Antioxidant – It has powerful antioxidant capacity.
Anti-inflammatory – The oil cut down the both internal and topical inflammation.
Anti-aging – The oil gives nutrition to the skin and helps to remove the signs of aging.
Anti-microbial – It is conventionally used in Sudan to sublimating water and is shown to cut down bacterial counts.
Disinfectant – Used to treat wounds.
Carrier – It is an outsatnding carrier oil for fragrant compounds.
Hepatoprotective – The oil protects the liver from being damaged.
Ointment – Acts as a an excellent moisturizer for the skin.
Preservative – This oil eludes rancidity and can be used as preservative for certain products.
Exfoliant – Remove the dead skin cells.
Enfleurage – Moringa oil assimilates the fragrance of essential oils and different other aromatic compounds like nuts, seeds, herbs, spices and chemicals. This makes it an ideal perfume basal.

What are the varied health benefits presented by Moringa Oil ?

Organic Moringa Oil proffers several health benefits when utilized on the skin and is taken internally.
It bestows glow ad healthiness to the skin and makes it well humidified, but not too oily, boosts gum health, gives relief from edema, stomach disorders and allergies.
Appeases the dry and irritated skin conditions such as eczema and psoriasis.
Can be utilized as a spot medication for acne, aids the body in curing acne scars, used to calm down manic disorder and errant emotional instability.
Can applied over marks left behind by scrapes, bruises wounds and burns.
Can deal with many fungal infections because it comprises anti-fungal activity, antioxidants and nutrients included in the oil help in fighting free radical impairment, which can reason in skin tissue damage and lead to the placement of wrinkles or crinkles.
Loaded with phytonutrients, which are efficacious for preventing several medical conditions such as neurodegenerative diseases, anemia, cancer, sickle cell disease, high blood pressure, obesity, high cholesterol etc.
Includes essential minerals such as potassium, calcium, magnesium, zinc, iron and phosphorus. It contains a little amount of fats and provides no harmful cholesterol.

Moringa Oil: Highly salutary for hair
The Moringa tree is also known as the "Tree of Life" and "Miracle Tree" as it has umpteen benefits and usages. The oil is a food source and is as prodigious for the hairs as it is for the skin. Acting as an outstanding hair conditioner, it is used as a hot oil softener that deals with almost any hair related problem. The Pure Moringa Oil treatment leaves the hair well moistened, by nourishing the roots and wash out the dandruff. Healing the botheration of the scalp, it makes the hair manageable. It adds radiance and gloss to the hair, making them beauteous, healthy and bouncy. The oil comprises behenic acid that strengthens the roots of hair. It also nurtures weak, and damaged hair and cut down the lifelessness in them.

How Pure Moringa Oil is an accumulated source of food energy ?
Small quantities of the oil can be added to the diet of young children so as to provide them a varied as well as a nutritious diet. The Pure Moringa Oil is rich in unsaturated fatty acids, vitamins and come with umpteen bactericidal and anti-inflammatory properties, which help in healing minor skin ailments such as bruises, burns, insect bites, cuts and rashes speedily.

Organic Moringa Oil : The elixir of many cosmetic products
The Organic Moringa Oil is all-in skin care products and cosmetics, because of its assorted antioxidants and skin revitalizing qualities. With a great quantity of oleic acid complacent of 72%, the Moringa oil perforates very deep into the skin, bringing the essential nutrients to the hair and skin and helps it to hold moisture.
The Pure Moringa Oil can also be found in lip balm, hand lotions and some other products, which target flaking and dry skin, and is a favourite ingredient in amalgamated massage oils. The oil is used for the preparation of :

Hair care products
Anti aging, wrinkle creams
Liquid body wash and Soaps
Aromatherapy oils
Face creams
Massage Oil
Perfumes and Deodorant

Moringa oil : A great rheumatic oil
The Pure Moringa Oil is a nice rheumatic oil, which can be applied to arthritic and painful joints. It can be used as an oil pack, similar to castor oil packs. It is highly effective in reducing inflammation and swelling, which gives alleviation from gout and joint pain.