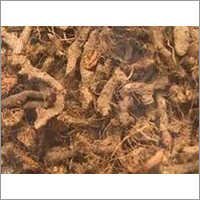 Nagarmotha Oil
Price And Quantity
Product Specifications
Product Description
How to Extract Cypirol Oil/Nagar Motha Oil ?

Cyperus scariosus is the botanical name of our Nagarmotha Essential Oil, Cypriol Essential Oil, which is all the more regularly known as cypriol. The plant generally develops in Madhya Pradesh, India and is acknowledged as nagarmotha. Further, the aroma of Cypriol Essential Oil earthy and woody. It is a superior content in fragrances that are produced in India. Our Cyperus scariosus develops to around 2.5 feet, along with a flat root, which is deep green in color. It is a blooming bush, where the blossoms measure from 2 to 8 inches long. The hubs are about ½ dense in distance across as well as is in an elliptical rhizome form. The trunk is fragrant and white in shading within. The rhizome is the thing that creates the oil and contains sodium, calcium, carbonates, alkaloids and minerals. It is refined utilizing trunk refining from the plants' underlying foundations. This tracheophyte is generally discovered just in India. The cyperus scarious oil is viewed as a vermin in numerous nations. Its oil is dim chestnut in shading and can alter shading to a clear green. As it evolves shading, the fragrance additionally alters getting to be distinctly woodier. It mixes with clary sage, patchouli, bergamot and Labdanum.

Attributes of Nagarmotha Essential Oil, Cypriol Essential Oil :-

Chemical Compounds: The fundamental components are sesquiterpenes, ketones and sesquiterpene alcohols.

Toxicological Features: As a negative reaction, it could induce bleeding that is the reason pregnant ladies must avoid the oil.

Primary Constituents: High bubling sesquiterpenes, ketond, sesquiterpene alcohols and compound of various similar to Vetiver Oil.

Colour: Brownish and Dark Yellow color.

Odor: Woody and warm normally typical note of Oudh and Vetiver.

Uses & Foresight of Cypriol Oil, Nagarmotha Essential Oil :-

1) Our manufactured and exported Cypriol Essential Oil possesses decongestative capacities.
2) It is utilized to cure problematic digestive issues and diarrhea. It is additionally effective in scanty periods, scabies and mucus.
3) Our Nagarmotha Essential Oil, Cypriol Essential Oil is a viable oil to destroy the intestinal worms. It can act as a normal tonic as well as a nerve binder, advances uterine shrinkage and can fix stools on the off chance that customers have a disturbed tummy.
4) Cypriol Essential Oil functions admirably against anorexia, non specific colitis and intestinal bleeding as well. This oil is utilized as a part of different ailments like fever, gout, skin diseases, rheumatoid and various other uric corrosive associated ailments, painful menstruation, fibromyalgia, general debility and kidney stones.
5) This plant can be utilized as a part of past kind on skin allied infirmities. It can assist to mitigate tingling. Our product can additionally enhance visual perception and be utilized as a part of eye associated sicknesses. Cypriol oil is utilized as a part of aromas as well as in incense sticks. In powder sort, Cypriol Essential Oil is utilized in psychosis and epilepsy alongside keeping up an ordinary body temperature.

Trade Information
Telegraphic Transfer (T/T), Cash in Advance (CID)

2-3 Per Day
Sample costs shipping and taxes has to be paid by the buyer

HDP