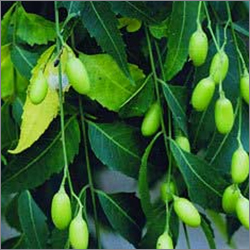 Neem Oil (Cold Press)
Product Code : 17
Product Description
Family: Meliaceae
Cold Pressed Neem Oil is Safe, Effective & Curing

Pure, natural & organic, neem oil (cold press) is great for overall health. Its treatment purifies as well as heals. It is a universal curer or healer for any ailment. Rich in antioxidants, the neem oil is helpful for skin and hair conditions. Its antibacterial nature treats acne, hyper-pigmentation, rashes, burns and abrasions. With essential fatty acid & vitamin, it protects and moisturizes the skin. Also, it clarifies the scalp and hair, both. Effective for treating dandruff and environmental damage. We offer pure, cold-pressed neem oil that gives best results.

Highlights :-


Pure and organic neem seed oil.
Home remedies and Ayurvedic treatments.
Essential Fatty Acids and High Antioxidant Content.

Benefits of Neem Oil

Neem Oil is proven for its effectiveness in many disorders. Also, it is used for preparing cosmetics, pharmaceutical products, and in ayurvedic medications. It is perfect for health and wellness.


Some of its benefits include :-

Heals and moisturizes the skin.
Helps reduce inflammation and redness.
Antiseptic properties.
Controls both diseases and pests.
Relieves dandruff and stimulates hair growth.

Summary:
Store Neem oil in a cool dark place, away from sunlight. Neem oil can easily solidify - even at low room temperatures. Should this happen put the bottle in warm water (below 95 degree F) to liquefy. Do not place in near boiling water, as it may reduce the effectiveness of the oil. Neem oil has a rather strong smell you might want to add a few drops of essential oil to any mixture to mask the smell. Lavender or lemongrass essential oils work well – but you could add your personal favorite.


Shipping Options:
We have shipping our goods by Air as well as Sea and also shipping i.e. DHL, Fedex, UPS, TNT, & EMS.


| | |
| --- | --- |
| Product | Neem Oil |
| Lot No. | 0415/2010 |
| Manufacturing Date | Aug 2010 |
| Best Before | July 2012 |
| Appearance | Slightly Thick |
| Colour | Dark Brown (1/4 inch expressed – 50) |
| Odour | Typical odor of Neem |
| Botanical Source | Azadirachta Indica (Fam: Meliaceae) |
| Refractive Index At 40oC | 1.4680 (1.4650 t0 1.4710) |
| Saponification Value | 200 (180-210) |
| odine Value | 78 (65-82) |
| Acid Value (Max) | 23 (18-35) |
| Titre C Min | 36 (25-42) |