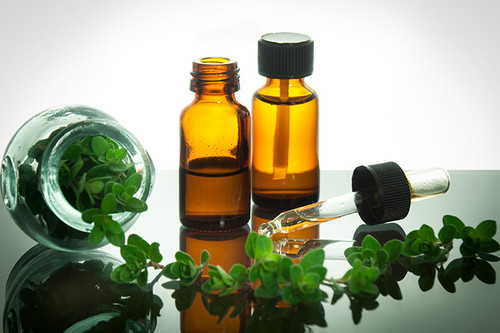 Oregano Oil
Product Code : Oregano Oil
Product Description
Belonging to the Lamiaceae family, Oregano Oil has been traditionally utilized as a folk medicine. This essential oil is obtained from the leaves of the oregano plant and is functional as a dietary supplement. There is not any clinical evidence, which indicates that this oil makes any effect on human health. The oil is noted for its numerous anti-disease effects. The aroma of this oil works as an equalizer as well as enhancer in various essential oil mixtures.


Chemical Composition :-

The Oregano Oil is primarily composed of monoterpenes and monoterpenoids, with the proportional density of every compound varying largely across geographic origin as well as several other factors. Included with 60 different compounds, the primary ones are carvacrol, thymol, p-cymene, spathulenol, germacrene-D, γ-terpinene, β-fenchyl alcohol, caryophyllene and δ-terpineol.


Uses and Health Benefits :-

Offered with wide-reaching health benefits, this efficiently maintains the health of respiratory as well as immune system.
Helpful in preventing and treating various infections, such as: Urinary tract infections (UTIs) grounded by Coli, Proteus, bacteria like E and Pseudomonas aeruginosa.
Standing as an important culinary herbal oil, it is used for leaves' flavor that van be more flavorful when dehydrated than fresh.
It has a warm, aromatic and slightly bitter taste that can differ in intensity.

Causes such as seasonal changes, climate and soil composition may make an effect in the aroma of this Oregano Oil present, and this effect may be of great extent between the different plant species.
Specification of Oregano Oil :-
| | |
| --- | --- |
| Product | Oregano Oil |
| Source | Leaves |
| Appearance | Fluid liquid |
| Colour | Pale Yellow colour |
| Odour | Herbaceous, sharp. |
| Botanical Name | Oreganum vulgare |