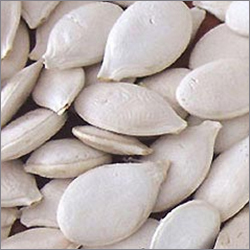 Product Description
There are various positive effects of pumpkin seed oil. It works as a food ingredient, and has some indispensable health benefits. Also, it is great in vitamins and anti-inflammatory properties. With potential health benefits, it supports heart health and urinary health. The oil contains a variety of fatty acids such as Palmitic, Linoleic, Stearic and Oleic. Also, we keep up with 100% purity and freshness. Pumpkin seed oil is used as a flavor element, fragrance, and in cosmetic products. It offers dietary as well as medicinal benefits. Pumpkin seed oil is obtained from the seeds of Cucurbita pepo. It is prepared by pressing roasted hulled pumpkin seeds. The viscous oil is light to very dark green to dark red in colour depending on the thickness of the observed sample. Pumpkin seed is traditionally used to treat a wide variety of illnesses, a Internal use Pumpkin seed is traditionally used to treat a wide variety of illnesses, and through scientific investigation most of the properties have been validated.
Highlights :-
Anti-inflammatory properties and unsaturated fatty acids.
Prostate & heart health.
Rich in antioxidants, and comprise essential vitamins.
How pumpkin seed oil is made ?
Making pumpkin seed oil is a complex procedure. Here the pumpkin seeds are roasted at an optimal temperature. This also ensures that essential fatty acids are not damaged. Then the roasted seeds are placed into a press to extract the oil from the seeds.
Benefits Of Pumpkin Seed Oil
It has various health benefits and uses. Good for healthy lifestyle, it's an ingredient to improve your physiological and metabolic health. Some major benefits, are:
Reduces inflammation.
Great for heart health.
Treats diabetes.
Good for hair and skin.
Improves urinary health.

Details of Pumpkin Seed Oil:
Product : Pumpkin Seed Oil
Lot No. : 18902/2009
Appearance : Fluid oily liquid
Colour : Green/red clear liquid
Odour : Typical vegetable seed nutty odour
Physico-Chemical Properties of Pumpkin Seed Oil:-
Test : Range
Peroxides Index : Max. 20 meq/kg oil
Acidity Index : Max. 7.0 mg KOH/g
Moisture : Max. 0.1%
Saponification Value : 185 – 196
Unsaponificable matter : Max. 3.0%
Acid Value : Max. 4.0
Iodine Value : 110 - 130
Peroxide Value : Max. 6.0
Density : 0.910 – 0.930

Total Amount of Vit. E : 0.96%
Fatty Acids Composition : Palmitic
Estearic : 5 – 8
Oleic : 18 – 36%
Linoleic : 45 – 60%

Linolenic : Max. 2%