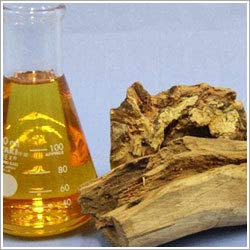 Sandalwood Oil
Product Code : 30
Product Description
Sandalwood Essential Oil
Family: santalaceae
Origin and description of Sandalwood Oil

Sandalwood trees are noted as extremely aromatic woods, which can hold their fragrance for various decades. This native tree of India has been utilized for many centuries in Indian culture. Taken from the center of the heartwood, the tree is typically darker and harder and has a sweet as well as woody aroma.

What are the uses and healthful benefits of Sandalwood Oil ?

It has the capability to promote a healthy looking and smooth skin, with an enhanced complexion, reduce the visibility of skin imperfections.
Highly useful for enhancing the mood, assist in settling and balancing the emotions.
Restore moisture to the hair strands, can be a regular haircare regimen for you hair.
Miscellaneous benefit : Beneficial in keeping germs and bugs at bay.
Chemical composition:
the main chemical components are santalol, santyl acetate and santalene. Our essential oil contains 90% santalol.

Toxicological Properties:
Sandalwood oil are antiphlogistic, antiseptic, antispasmodic, astringent, carminative, diuretic, emollient, expectorant, sedative and tonic.

Organeloptic Properties:-
| | |
| --- | --- |
| Appearance | Viscos Liquid |
| Colour | Yellow colour |
| Odour | Somewhat Woody, Sweet, peculiar, persistent odour |
| Botanical Source | Santalum Album Linne (Fam: Santalaceae) |
Physico-Chemical Properties:-
| | |
| --- | --- |
| Specific Gravity At 25oC | 0.965 To 0.980 |
| Refractive Index At 20oC | 1.5000 To 1.5100 |
| Optical Rotation At 25oC | -15 To - 20 |
| Solubility | 1:5 in 70% EtOH |
| Assay | Not less than 90 per cent of Alcohol, calculated as Santalol (C15 h24 O) |