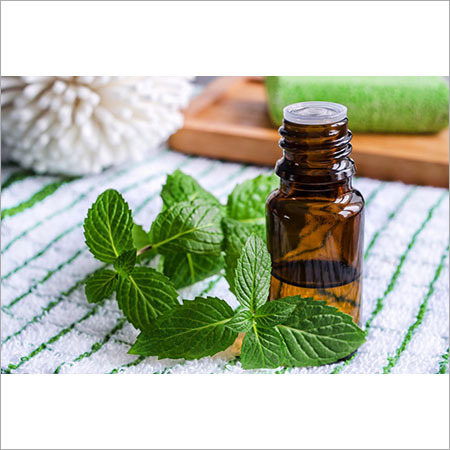 Spearmint Essential Oil
Product Code : 21
Product Description
Spearmint Essential Oil
Origin, Infusion and Amalgam of Spearmint Essential Oil
Indigenous to the Mediterranean area the Spearmint Essential Oil is excerpted from Mentha spicata of the Labiatae family and is also celebrated as common or garden spearmint and spire, lamb, pea, green and fish mint. It has a kindred fragrance to that of peppermint oil but is somewhat sweeter and is pale yellow to greenish in its coloring. Loaded with antioxidants, vitamins and vital nutrients it also has rich amounts of dihydrocarvone, limonene and cineol. The oil also contains hydrocarbons, esters, oxides, alcohols and ketones. The main elements include alpha-pinene, cavone, cineole, beta-pinene, linalool, limonene, caryophyllene, menthol and myrcene.

Benefits of Spearmint Essential Oil
The Spearmint Essential Oil has many antimicrobial properties, which are acquired from its chemical essentials: carvone and cis-carveol. It has power against four bacterial formations (Escherichia coli, Pasturella multocida, Staphylococcus aureus and Bacillus subtilis) and fungal microorganisms (Aspergillus niger, Fusarium solani, Botryodiplodia theobromae, Mucor mucedo and Rhizopus solani).
Has potent antimicrobial nature and antiseptic properties, can protect injuries and ulcers grounded by infection and assist them in healing fastly.
Helps in curing sexually transmitted diseases (STDs), such as syphilis and gonorrhea.
Help in the treatment of internal wounds and contagions in the intestines and stomach.
Helps in relaxing muscle spasms and nerves due to its menthol complacent.
Discharge the excessive gas to pass naturally from the intestines and stomach.
Relieves vexations and stress-related neural difficulties.
Medicates menstrual problems, such as blocked menses, irregular periods, and advance menopause as it generates the secretion of the hormone estrogen.
Stimulates the brain and nerve function, as well as blood circulation.
Relieves common respiratory difficulties such as nasal congestion, colds, flu and asthma.
Can be used for making dentifrices, mouthwashes, health food products, and cosmetics.
Helpful to deal with digestive difficulties including constipation, diarrhea, flatulence and sickness, as it decompresses the stomach muscles and also alleviates hiccups.
Beneficial for curing migraines, nervous strain, headaches, fatigue and stress, bronchitis, inflammation and sinusitis.

How does Spearmint Essential Oil work ?
The oil can be utilized in following modes:

Inhalation – In comparison with peppermint oil, the spearmint oil is gentler and can be used for children. Two drops can assist in treating stress and respiratory problems.
Bathing – By adding two to three drops of this oil to the bathing water can help in relieving weariness and muscle pain sensation.
Massage oil – By bending the spearmint essential oil with carrier oils such as evening primrose oil or almond oil, it can be used to relieve menstrual pain, body pains and muscle spasms.
Topical utilization – Can be added few drops into the skincare products for treating itching, dermatitis, insect stings, athlete's foot and some other skin preconditions.
Taken by mouth – In-taking the oil can help in treating digestive problems. Nevertheless, this should never be done without the assistance of a professional aromatherapist.

The Spiritual Influence of Spearmint Essential Oil :-
The vigor and energy of the oil open and emit the emotive blocks in the etheric level that helps to fetch a balance to the body. The Spearmint Essential Oil also helps people to set up safe bounds and feel protected when venting old beliefs. It helps an individual to develop self-trust, which is crucial for moving forward and getting over the negative emotions. The oil presents a releasing yet uplifting mood to the user.

Side Effects and Precaution :-
Exposure to Spearmint Essential Oil due to inspiration can bring on nausea, lightheadedness, skin irritations, headaches and even emotional difficulties.
The recommendation of a professional should be sought-after prior to the usage of the Spearmint Essential Oil.