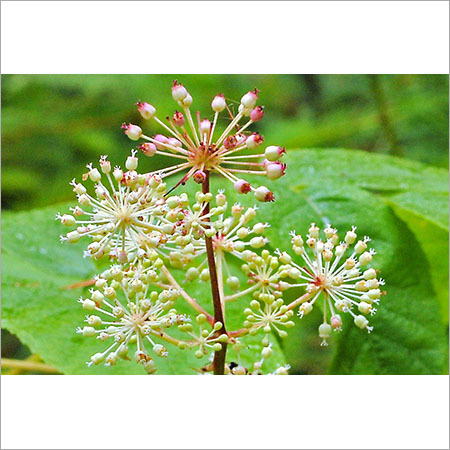 Spikenard Oil
Product Code : 22
Product Description
Spikenard Essential Oil

Origin, Extract and Composition of Spikenard Oil
Spikenard Essential Oil is excerpted from Nardostachys jatamansi of the Valerianaceae family and is also famed as "false" Indian valerian root. It has a misty, warm, heavy aroma and is pale yellow in color. With a medium viscosity, the oil comprises aristolene, clalarenol, nardol, nardostachone, coumarin, dihydroazulenes, calarene, jatamanshinic acid, valerianol, valeranone, valeranal. These chief components are the origins of its medicinal properties. Made with a tender fragrant herb with a acrid rhizome root it has been historically used in China, Japan and Rome.

What are the Salubrious benefits of Spikenard Essential Oil ?
Spikenard Essential Oil is a powerful remedy for various skin ailments reasoned by bacterial infections, helps in eliminating bacteria from the skin.
Helps in treating cholera, food poisoning, tetanus, athlete's foot and septic.
Helps in relieving most kinds of inflammation of the respiratory, nervous and digestive systems.
As an effective laxative, it assuages several stomach disorders such as constipation and irregular excretion.
The Spikenard oil is a potent sedative that helps in maintaining mental, physical as well as psychological balance of the body.
It medicates allergies, alleviates hemorrhoids, treats unhealthy veins and also cut down the angina pain sensation.
The Spikenard Essential Oil also has cell regeneration actions, it rises the blood circulation and oxygenation of the tissues, muscles, cells and organs.
Aromatherapists utilize the oil to achieve mental harmony.
As a spiritual oil it is relaxing, grounding and centering, highly preferred in India as a skin tonic and health-supporting perfume.

What are the uses of Spikenard Oil for Hair ?

These days it is valuable around the world for its healthful and aromatherapy advantages, its calming qualities and its natural woods-like aroma.
In traditional Indian medication, it has been used to pacify the mind and relieve stress. Spikenard Oil for Hair is also utilized by Ayurvedic practitioners to medicate many of the mind and nerve complaints such as hysteria, epilepsy and mental fatigue.
The Spikenard Essential Oil includes antibacterial, anti-inflammatory and anti-fungal properties and employed as a laxative, deodorant and uterine qualities.
Aromatherapy based extracts and mixtures include Spikenard essential oil for inspiriting placidity and tranquility. The rich woody core is famed for bestowing comfort to the heart and soul.

Forms to use Spikenard Essential Oil in Aromatherapy :-

Medication
Bathing
Massage
Vaporization
Spray

Precautions and Side effects of Spikenard Essential Oil :
Little is best-known about the safety of regular and long-term use of this curative. Nevertheless, there's some interest that :

Usage of Spikenard Oil may be pernicious for pregnant and breastfeeding women, as well as the patients with epilepsy.
The Spikenard Oil for Hair can be venomous when taken internally so they should only be taken orally under the direction of a well-qualified professional.
The Spikenard Oil for Hair may reason in irritation or allergies in people with excitable skin so it is all-knowing to do a spot test before using it regularly.
Jatamansi Brown Oil is acquired by the steam refining of Nardostachys (Spikenard) roots that comes from family Valeri Anaceae. Acquirement of raw material is over 5200 feet.
Description & Extraction :-
Spikenard is a delicate sweet-smelling herb with a sharp rhizome root as well as local to the sloping districts of northern India, and in addition, Japan and China. Our spikenard oil possesses a warm, heavy and misty smell, is light yellow in shading and medium in consistency. It is removed from Nardostachys jatamansi, which is additionally called "false" valerian root of India. This oil is extricated from the pounded and parched rhizome of herb through steam refining and outputs 1-3%.
Chemical Composition :-
The principle compound parts are bornyl acetic acid derivation, Jonon, Menthylthymyl-ether, valeranone, tetramenthyloxatricylodecanol and 1,8-cineol.
Toxicological Properties :-
Our spikenard oil is anti-pyretic, calmative, laxative, anti-inflammatory, antiseptic, sedative and tonic.
Blends well with :-
It mixes well with each other, especially well with lemon, neroli, vetiver, lavender, clary sage and patchouli.
Uses & Precaution :-
Vapor therapy or used in the bath
This oil can be powerful for stress, nervous indigestion, insomnia, tension and migraine.
It appears to have reviving properties particularly for the develop skin, and can assist in hypersensitivities, rashes and skin aggravations.
Utilized As A Part Of The Shower Or Vapor Treatment
In vapor treatment or weakened in the shower, our spikenard oil can assist in stress, insomnia and tension.
Mixed Massage Oil.
As mixed massage oil, it can help with stress, insomnia, tension and headache.
Our oil has no recorded contra-signs, however care ought to be taken with every oils.
Summary :-
It is among the early fragrant utilized by the old Egyptians as well as is said in the Bible, in Vocal of Solomon, as well as in the Volume of John in which Mary utilized it to bless the Jesus feet. It was utilized by well off Roman ladies in fragrances and skin care preparations.
Shipping Options :-
We have shipping our goods by Air as well as Sea and also shipping i.e. DHL, FedEx, UPS, TNT, & EMS.