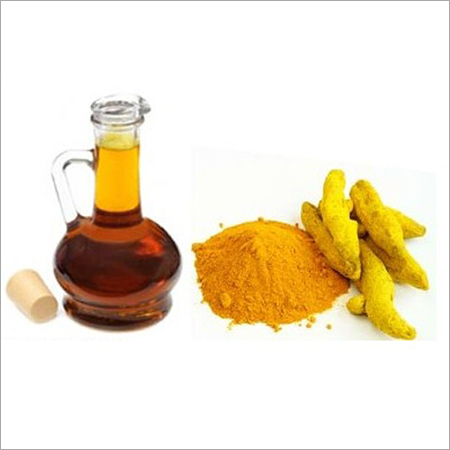 Turmeric Oil
Product Code : 11
Product Description
Turmeric Essential Oil

Description of Turmeric Oil :-
Turmeric Essential Oil is anti-allergic, antibacterial, antimicrobial, anti-fungal, anti-parasitic, anti-worm and antiviral. It's also a powerful relaxant and balancer. Additionally, according to Ayurvedic medicine, this refreshing herb is meant to assist the instability of Kapha body type. Turmeric Essential Oil is very powerful and compact with uncommon compounds as it is excerpted from such a compelling healer herb. After analyzing turmeric oil may display the presence of 400-500 assorted kinds of molecules. What is even more surprising is that numerous of these molecules have receptor locatuons in the neuroendocrine systems.

Chemical composition of Turmeric Oil for Skin :-
Curcumin, the yellow colored pigment of turmeric is made industrially from turmeric oleoresin. The mother liquor after separation of curcumin from oleoresin famous as curcumin abstracted turmeric oleoresin (CRTO) was excerpted three times with n-hexane at room temperature for 30 min to acquire Turmeric Essential Oil. Turmeric oil can be taken orally as well as externally .
The oil blends well with ginger, blood orange, grapefruit, cinnamon, vanilla, and cardamom.

Toxicological Properties Of Turmeric Essential Oil :-

The Turmeric Essential Oil acts as an antioxidant, anti-inflammatory, antimicrobial, grounding, calming.

How Turmeric Oil for Skin is used and what are its health benefits ?
Anti-inflammatory: Several turmeric oils are 60-65% alpha-curcumene (a Sesquiterpene hydrocarbon). This is also the primary element in turmeric root, which provides turmeric its anti-inflammatory characteristics. Turmeric oil has been utilized with different other essential oil such as Plai, Frankincense etc. for readying anti-inflammatory and pain alleviating formulas.
Arthritis and joint troubles: Turmeric is helpful for arthritis and joint care. It also assists in the muscle pain.
Industrial usage: Turmeric Oil for Skin is employed as a spice in food industry. It is also utilized in pharma industry where it is utilized in making anti-microbial, anti-fungal, antivenom, anti-inflammatory, antiseptic, pain relieving (and more) drugs / ointments.
Digestion related: 6-gingerol and Zingeriberene are the main compounds present in turmeric oil that assist in bringing digestive system in order and also stops the placement of gas in gastrointestinal area.
Benefits to liver: Ar-turmerone, which is a compound that is present in Turmeric Oil for Skin and is known to make the liver healthy.
Anticancer : Turmeric and turmeric oil both are now famed to have anti-cancer properties.
Skin and Hair: Turmeric Oil for Skin is also famed to help in precluding hair loss, particularly male pattern baldness. This action is also dimensioned to its anti-inflammatory and anti-oxidation properties. Turmeric oil is also utilized in numerous skin care formulas to make the skin vernal.

What are Precautions with Turmeric Essential Oil ?

The Turmeric Oil for Skin should be taken with utilization if turmeric oil too. This is an extremely concentrated variety and thus extra quantity can cause problems. Do not consume more than 5 drops of the oil by mouth. It is better to take it with water, honey or tea.
In case you think to apply turmeric oil on your skin, it is better to do a patch test first so as to avoid the reactions. The oil makes the skin more sensitive to UV rays, thus use it in small concentrations if you have to go in the sun within 48 hrs of application.
Pregnant women should always make the usages of Turmeric Oil for Skin after due recommendation with the doctor.