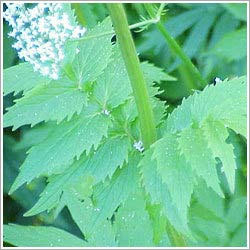 Valerian Root Oil
Product Code : 33
Product Description
Valerian Root Essential Oil

Botanical Name: Valeriana officinalis
Family: Valerianaceae
Valerian root refined from the root that has been utilized for quite a long time. Amid the most recent three decades, Valerian Root Oil has been clinically researched for its unwinding properties. Analysts have pinpointed the valerone, valerenic acid and sesquiterpenes as the dynamic constituents that apply a restorative and calming helpful impact on the focal sensory system. The aroma is extremely quieting and establishing to the body and brain. It has a smelly and woody fragrance that the vast majority either like or don't care for! Yet, animals appear to resound extremely well with this Valerian Root Oil. That is the reason this is ideal for anxiety, periodic restlessness and whatever that may need a little anxiety facilitating! Did you realize that Valerian root was utilized as a therapeutic herb in antiquated Rome and Greece? Galen, a Roman doctor and scholar of Greek starting point, recommended it for sleep deprivation! To begin with, just utilize restorative review oils! Our Valerian Root Oil does not possess contraindications recognize at ordinary smell helpful measurements; nevertheless, it is prescribed that it isn't consumed in expansive dosages or for a drawn out stretch of time.


Key Features :-


The absolute most vital medical advantages of Valerian Root Oil incorporate its capacity to enhance rest quality, quiet gastrointestinal inconveniences, diminish heart palpitations, secure the skin, decrease anxious scatters, bring down circulatory strain, empower subjective capacity, dispose nervousness, and reduce menstrual spasms, among others.
Secures skin against contamination and diminishes appearance of wrinkles.
Cures a sleeping disorder and enhances nature of rest.
Decreases danger of heart attacks and strokes.
Manages circulatory stress.
Helps in enhancing state of mind and decreasing tension.
Alleviates seriousness and inconvenience of menstrual spasms.
Facilitates irritate stomachs and incite solid defecations and pee.
Summary:

Essential oils can also be used in soap making ingredients, lotions, massage oils, diffusers, potpourri, scent, air fresheners, body fragrance, perfume oils, aromatherapy products, bath oils, towel scenting, spa's, incense, light rings, laundry, facial steams, hair treatments, and more.

"Valerian Root Oil" is obtained by the steam distillation of the crushed roots of Valeriana Officinals (Fam: Valerianaceae).


Organoleptic Properties:-
| | |
| --- | --- |
| Appearance | Fluid liquid |
| Colour | Olive Green or Olive Brown colour |
| Odour | The odour is warm-woody, balsamic root like odour with a distinct animal under note of musk like character and great tancity of Valeric Acid. |
| Botanical Source | Valeriana Officinals (Fam: Valerianceae) |
| CAS No. | 97927-02-1 |
| FEMA No. | 3100 |
Physico-Chemical Properties:-
| | |
| --- | --- |
| Specific Gravity At 25oC | 0.940 To 0.951 |
| Optical Rotation | N. A. |
| Refractive Index At 25oC | 1.500 To 1.5071 |
| Solubility | Soluble in Alcohol and other organics solvents. |
| Use | The oil gives very interesting effects in combination with Patchouli, Costus, Cyperiol etc. In Chypre variation and other Perfumery Compounds, Tobacco Industries and Fruit Beer Flavours. |