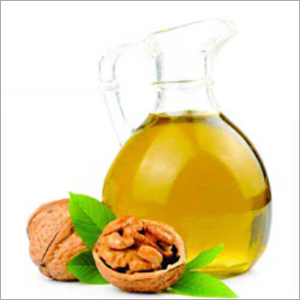 Product Description
We all know that walnuts are the most popular of all brain foods available today. Walnut Oil derived from these precious stone fruits called walnuts is no less beneficial. Only good quality cold pressed walnuts that are organically cultivated and hence richly packed with omega-3 fats, antioxidants, plant sterols, and essential minerals like magnesium, copper, etc., are used for extracting our Walnut Oil. As such, this oil is one of the most popular cooking oils finding great use in making delectable treats like salads, pastas, breakfast cereals, sweet dishes, chocolates, and more. Our oil though immensely health benefitting is quite inexpensively priced.


Main Uses of Walnut Oil:
1) The oil is used as an anti-fungal remedy for candida, jock itch, athlete's foot, etc.
2) Rich in vitamin B, the oil has many anti-ageing benefits.
3) In addition to giving glowing skin, it also treats patchy skin conditions like psoriasis.
4) The oil is known to keep various digestive discomforts at bay.