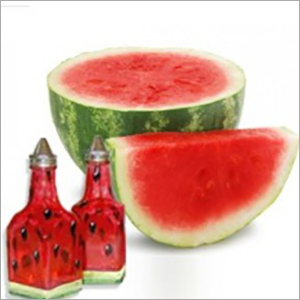 Product Description
Among one of our most nutritious oils is this Water Melon Oil that we offer. This oil is free from harmful additives of any kind and is carefully extracted from watermelon seeds of Citrullus lanatus. This light weight oil serves various purposes with one of the main being its use as a skin conditioner. Water Melon Oil can be extracted via cold pressed method, solvent extraction (where hexane is used as a solvent), or via supercritical carbon dioxide extraction. However, we employ the cold pressed method so that all vital nutrients of the seeds remain intact in our offered oil.


Main Features of Water Melon Oil:
1) Only pure and organic quality watermelon seeds are used for extracting the oil.
2) The oil is known for its superior emollient and antioxidant properties.
3) Its anti-ageing action is notable, making it one of the most used ingredients in various cosmetic products.
4) The oil also has antihelminthic (deworming) properties.